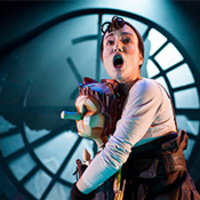 The Rozsa Center welcomes the acclaimed theater troupe Tout à Trac, from Quebec, Canada, with their adaptation of "Pinocchio," a magical theatrical production which takes us on another amazing journey into the heart of childhood and imagination.
Following their internationally acclaimed "Alice in Wonderland," Tout à Trac returns with Collodi's tale about the world's most famous puppet: Pinocchio.
They will present two shows —2 and 7:30 p.m. Saturday (Nov. 10). In addition to the performance, guests at the 2 p.m. matinee will be treated to "KC Bonker's Gepetto's Workshop" in the lobby, after the show, co-hosted by Trish Helsel (VPA), KC Bonker's, the Portage Lake District Library and the Rozsa Center.
"Gepetto's Workshop" will include an interactive puppet workshop, featuring an on-stage tour of the Pinocchio set, a shadow puppet theatre and a "sock-puppet creation-station" in the Rozsa lobby, complete with refreshments and puppetry-themed fun for all ages.
Calling all parents, grandparents, aunts and uncles! If you haven't taken the children to see Pinocchio … yet, keep it in mind as a weekend option. Every detail is artfully executed in this disarming retelling of a classic tale. The sets, costumes and, of course, the puppets (including the boy with the nose), have a distinct, folkloric style. Gepetto is adorable. One of Pinocchio's arms is a flute. The cat gets a laugh by simply singing one word from a famous feline musical. — Pat Donnelly, Reviewer
Tickets are on sale now, $16 for adults, $6 for youth and no charge for Michigan Tech students with the Experience Tech fee. Tickets are available by phone at 7-2073, online at mtu.edu/rozsa, in person at the Central Ticketing Office in the Student Development Complex or at the Rozsa Box Office the evening of the performance.
Note: The Rozsa Box Office only opens two hours prior to performances.