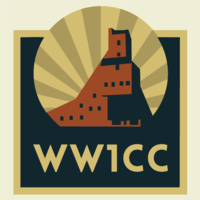 Due to popular demand, the "World War I & the Copper Country" exhibit, "Art & Warfare," will run for four days next week in the Immersive Visualization Studio, EERC 510. There will be special hours:
5-6 p.m. Monday (10/29)
3:30-5 p.m. Tuesday (10/30), Thursday and Friday (NOV. 1-2)
This exhibit features the sketches and paintings of the Official Artists of the American Expeditionary Forces, a group of eight accomplished artists sent to France to visually depict the war.
Their work is dramatically displayed on the Immersive Visualization Studio's screen wall—twenty-four 48" screens supported by eight computers—and accompanied by jazz renditions of contemporary wartime popular songs arranged and performed by Bill Carrothers from his collection, "Armistice 1918."
"Art & Warfare" realizes the integration of STEAM (Science, Technology, Engineering, Arts and Mathematics) by facilitating multisensory reflections on aesthetics, technology and warfare.