All PhD students must submit their dissertation to ProQuest/UMI.  Master's students who defend before January 10, 2011 have the option of submitting their thesis to ProQuest/UMI.  Master's students who defend after January 10, 2011 must submit their thesis to ProQuest/UMI.
This tutorial is divided into four sections, which match the sections on the ProQuest/UMI submission webpage:
Logging into ProQuest/UMI
To begin, go to http://dissertations.umi.com/michigantech
Click on the "Submit" hyperlink in the upper right, or the "Submit my dissertation/thesis" in the "Ready to begin?" box.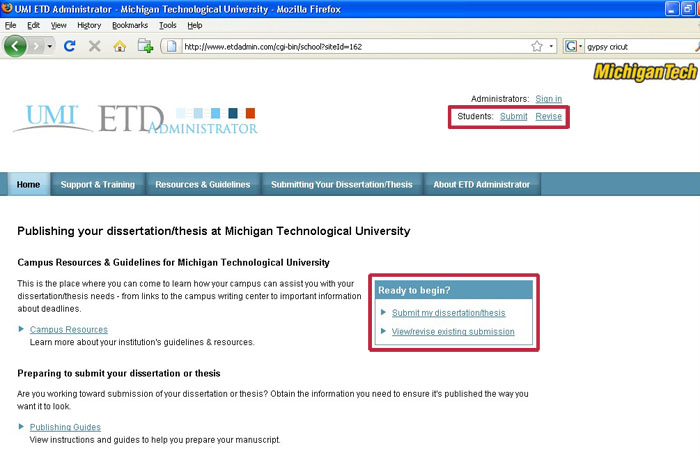 On the next screen, select the appropriate option:
New user: click on the hyperlink "Create an Account."  Provide the required information and follow the prompts to create your account.
Returning user: login with the username and password you created.  You may then create a new submission, or continue the submission you have in progress.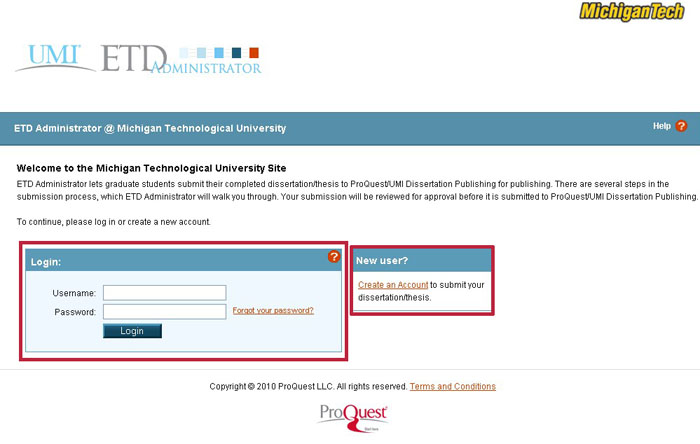 Publishing Information
The left hand navigation of the submission screen (boxed in red below) will allow you to see what steps you have completed.  To navigate, click "Save & Continue" at the bottom of each screen to save data you have entered, or click on any link in the left hand menu to navigate to different areas of the submission process.  The help icon in the upper left is also available to assist you on every page.
The first screen includes instructions on what you will need to complete your submission, and how you will pay the fees to Michigan Tech.  Scroll to the bottom of the screen and click the "Continue" button.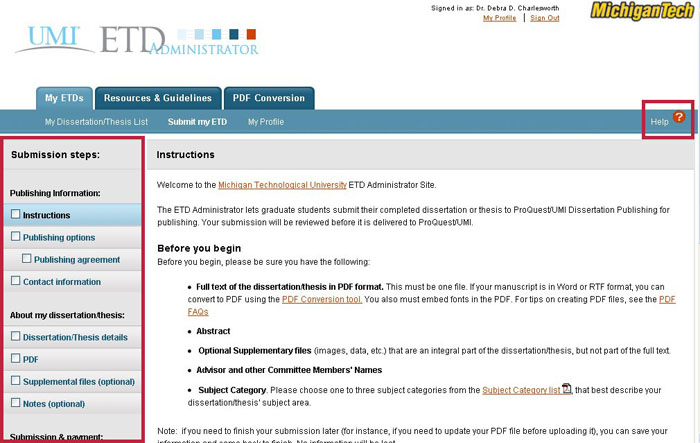 On the "Publishing Options" page, select the type of publishing you want for your document.
Traditional Publishing is the minimum option, and is free.
Open Access Publishing will give your work broader access, but has a cost associated with it.
The option you select must match the option selected on the Degree completion form.
Confused? Learn about the benefits of Open Access Publishing from ProQuest/UMI.
Scroll down and select if you want your work available as soon as it is published, or if you need to delay access to your work.  This selection must match what was selected on your Pre-defense form.  The remaining questions on this page are your choice.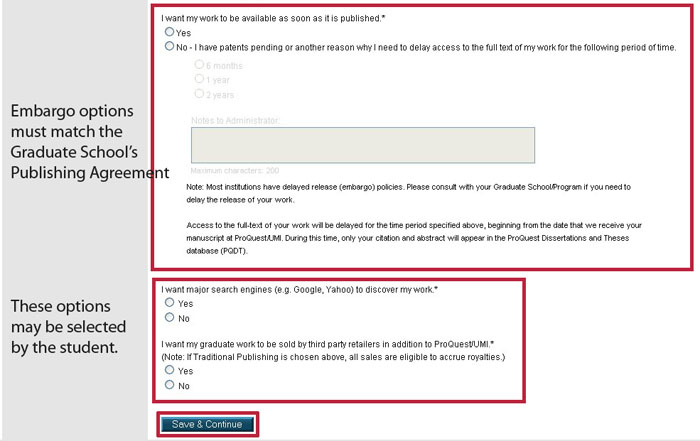 The next screen will present a Publishing Agreement based on the options you selected (Traditional or Open Access).  Read the agreement, and click on "Accept" to proceed.  You will then be prompted to enter your contact information.  Complete all of the required items.
About my dissertation/thesis
The "Dissertation/Thesis Details" page will ask about the title of your document, and other facts about your committee and program.  Note that if you have special characters in your abstract, you will need to use html codes.  The Graduate School will verify that the names of your committee members and advisors match our records in Banner.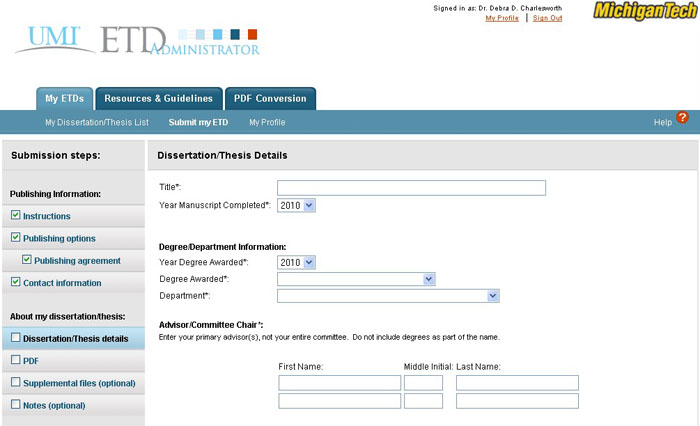 On the "PDF" page, upload your dissertation or thesis as a pdf file.  Click on the "Browse…" button (boxed below) and use the pop-up screens to navigate to the file.  You will immediately be told if your pdf file is in the format required by ProQuest/UMI.
Need help with embedding your fonts?
Click "Save & Continue" after you have uploaded your file.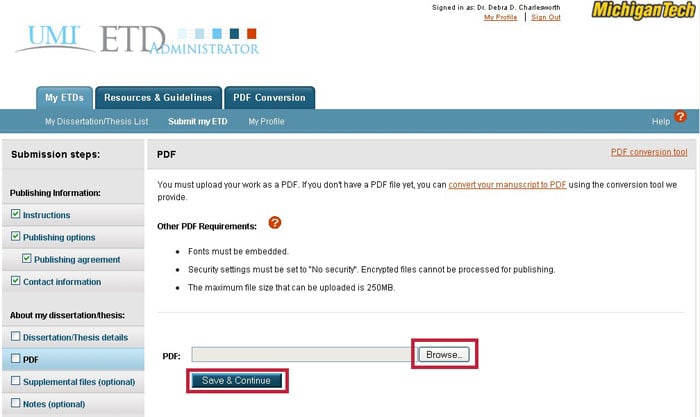 The next two screens allow you to upload supplemental files (such as an appendix available in digital format, or permission letters to reprint copyrighted materials) and add notes to the administrator.  The information on these pages is optional.
Submission and Payment
In the final section, the "Register U.S. Copyright" page will ask if you want to register your U.S. copyright.  There is an additional charge for this service that will be collected via your Degree completion form.  See ProQuest's web page for information about this service and the benefits of filing your copyright. Answer questions 1 and 2 as you wish.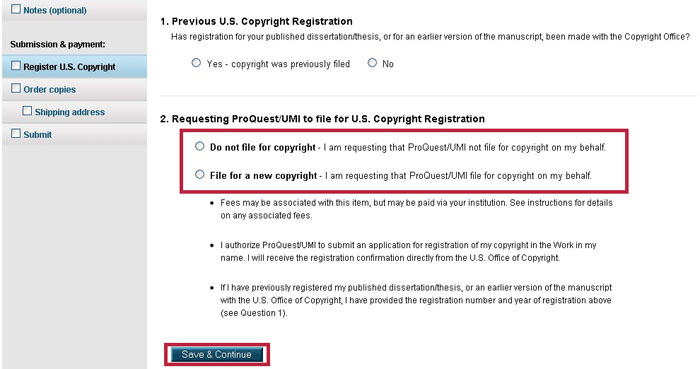 The "Order copies" page will ask you if you want to order copies of your document.  These copies are in addition to any copies you order on your Degree completion form, and you will pay ProQuest/UMI via a credit card on this web site if you order copies.   Click "Decline-do not order" if you do not wish to order copies from ProQuest/UMI.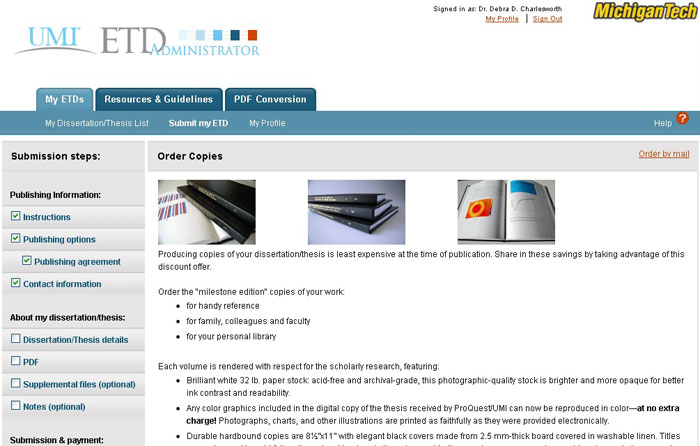 On the "Submit" screen, if any items are incomplete, you will be asked to complete them before submitting.
If your submission is complete, you will be given a final opportunity to review your information, and change anything you have selected.  Click "Submit Dissertation/Thesis" to submit your document.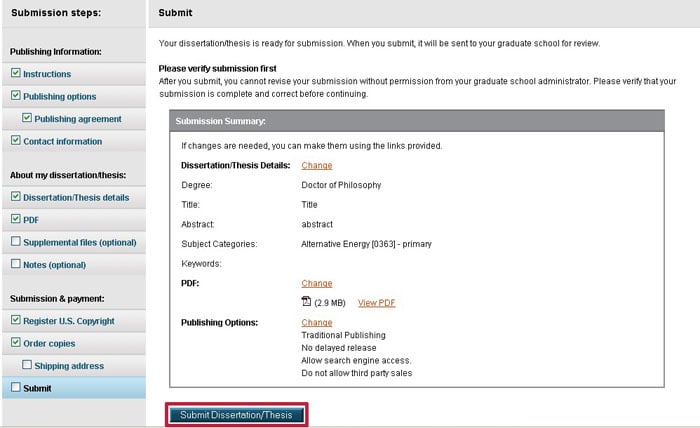 The Graduate School will review your submission, and let you know of any changes that are necessary.  You may return to ProQuest/UMI and "Revise" or "View" your submission at any time prior to acceptance by the Graduate School.