We've recently compiled a list of publications drawn from research in the collections of the Michigan Tech Archives over the last 25 years. We created the list at the request of a granting agency who wanted to understand the types of research and publication which were conducted in our holdings (more on the grant project soon).  The list isn't intended to be completely comprehensive, but does highlight the wide range of books, articles, and graduate theses and dissertations which have made use of our collections.
The list is linked from our main web page at http://www.lib.mtu.edu/mtuarchives/ under the "Quick Links" section.  You can download the list as either as a .pdf document or in Microsoft Word format.
It is our intention to update the list on a periodic basis.  Please feel free to use the comment section immediately below this message to share other publications you feel should be added to the list.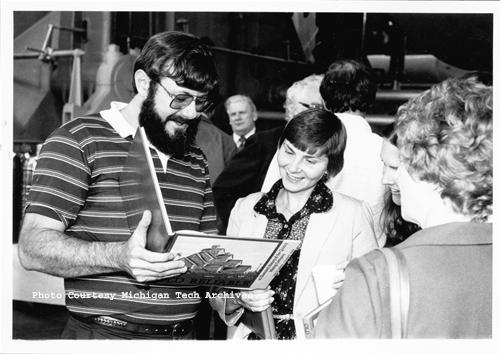 Michigan Tech historian Larry Lankton discusses the newly-published book "Old Reliable: An Illustrated History of the Quincy Mining Company" with archivist Theresa Spence at a book premier event held in August 1982 under the big No. 2 hoist at the Quincy mine site. The book, based partially upon research conducted in the collections of the Michigan Tech Archives, was co-authored by Lankton and Charles Hyde and published by the Quincy Mine Hoist Association.  The photograph above is image #No Neg 2008-01-07-03 from photograph vertical file (you can view the record by clicking this link: http://digarch.lib.mtu.edu/showbib.aspx?bib_id=637523).