The Keweenaw Digital Archives, a web-based collection of historical photographic images of Michigan's Copper Country, added its 10,000th image on Friday, November 19.  The collection is drawn primarily from the photographic holdings of the Michigan Technological University Archives and Copper Country Historical Collations and document the social and industrial life of the Keweenaw Peninsula. 
"It's been an incredible experience," remarks Christine Holland, library assistant with primary responsibility for adding content to the system. "I've lived here all my life, but it really wasn't until I started scanning photos for the digital site that I really began to appreciate the buildings, places, and history around me." 
"People know the Keweenaw was a historic mining district, but you can't see any mining here today. Looking at these historical photos, seeing miners working underground, seeing thousands of copper ingots on the docks, or the crowds dressed in their finery on city streets — that's when you really begin to understand what happened here." 
Initial funding for the digital archives initiative was part of the Michigan Tech Archives "Interior Ellis Island" ethnic history project. A donation from Dr. Robert and Ruth Nara of Bootjack, Michigan, supported the purchase of computer and scanning equipment necessary for the work. A grant from the Michigan Humanities Council, an affiliate of the National Endowment for the Humanities, supported the more significant aspects of the project.   
"This is an incredible milestone for our digital collection," noted Erik Nordberg, University Archivist. "We began this project in March 2006 and have grown from success to success over the last four years. It's a testament to Christine's efforts that we have been able to create such a rich and varied public resource in such a short time." 
The Keweenaw Digital Archives includes photographs from a variety of sources and covering a variety of periods. Some of the earliest images include the work of local photographers J.W. Nara, J.T. Reeder and Adolph Isler and date well before 1900. More recent images include photos from Michigan Tech campus photographers and alumni, as well as a large number from Houghton's local newspaper, The Daily Mining Gazette. Topics include copper mining, local cities and towns, social life, maritime and lighthouses, campus life and athletic teams, and almost every aspect of life in Michigan's Copper Country. 
When asked for some of her favorite images, Holland stops to think. "That's a tough question. One that immediately springs to mind is a 1909 photograph of the first dirigible to fly over Houghton. I was able to track down a newspaper article about the event and the reporter commented on how the balloon, named The Comet, did a figure eight around St. Ignatius Church." 
"Personally, I've always loved to see the interior decor of Victorian homes. And I really like photographs of social activities like picnics. It's interesting to see the clothing people wore and the way they did their hair. It makes you think about how things have changed, but also how things have stayed the same." 
The public can visit the Keweenaw Digital Archives online at http://digarch.lib.mtu.edu  In addition to searching for images by keyword, visitors can browse by subject, or search for just the most recent images added to the system. Interactive features allow the general public to submit comments about individual images, develop their own online photo album, or generate a duplication order for photographic prints or digital scans. 
For further information, contact the Michigan Tech Archives at 906-487-2505 or at copper@mtu.edu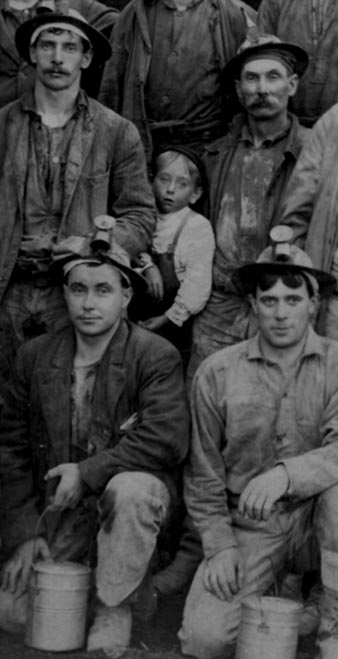 Update:
The Daily Mining Gazette, Houghton's local newspaper, ran a nice story about our milestone in the December 2, 2010 edition.  The story is in
online as part of their web edition
and an image capture of the the front page of the paper is attached below (the story is on the lower right).