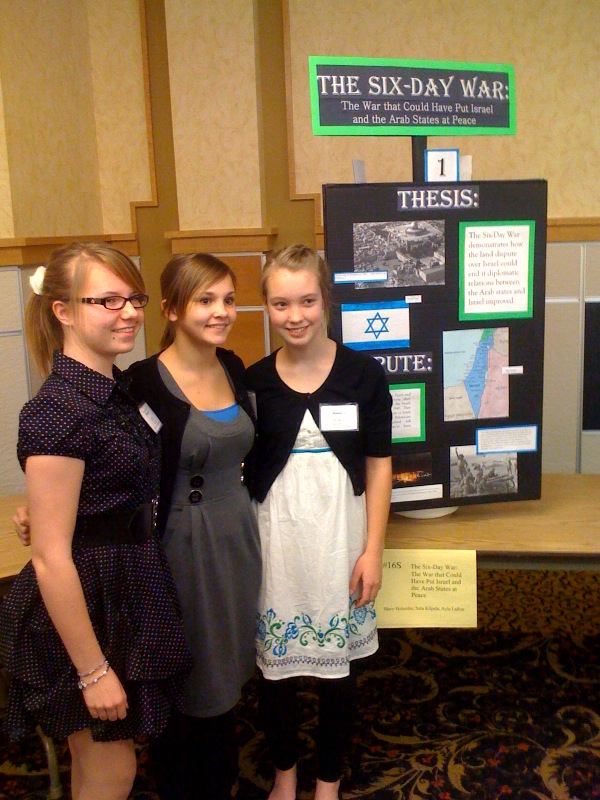 History came alive for more than 90 students in grades 4 through 12 as they participated in the District 1 regional competition for National History Day.  The event took place Saturday, February 26, 2011 at the Memorial Union Building on the Michigan Tech campus.  Although judging of the exhibits took place behind closed doors, the public was invited to a community showcase  to examine the exhibits, documentaries, websites, and other student submissions.     
An awards ceremony rounded out the event, with finalists  selected to advance to the Michigan History Day state finals on April 30, 2011 at Grand Valley State University. That event will identify an even smaller group of participants to travel to the national finals in College Park, Maryland, in June.    
District 1 is comprised of 12 counties in the Central and Western Upper Peninsula. The district competition is sponsored annually by the the Michigan Tech Social Sciences Department, the Michigan Tech Archives and Copper Country Historical Collections, the Quincy Mine Hoist Association and the Historical Society of Michigan.    
For more information on National History Day, email District 1 coordinator Jane Nordberg at jlnordbe@mtu.edu or contact the Michigan Tech Archives at copper@mtu.edu    
——————–    
STUDENTS MOVING ON FROM DISTRICT TO STATE COMPETITION:    
Junior Division, Individual Documentary:
Sam Wallace, Houghton Middle School, "Animal Testing: Cruelty, crisis and compromise."    
Junior Division, Individual Exhibit:
Meagan Kangas, Dollar Bay High School, "Did John F. Kennedy's Signing of the Equal Pay Act Help Men and Women's Income?"    
Junior Division, Group Exhibit:
Haley Makela, Amanda Mattila, Paris Puuri, Jeffers High School, "The Cuban Missile Crisis: The brink of a nuclear war    
Senior Division, Research Paper:
Marcel Mongeau, Lake Linden High School, "The Toledo War"    
Senior Division, Group Performance:
Kirsten Berg, Kelsey Bekkala, Katelyn Anderson, Hancock High School, "The Diary of Fashion"    
Senior Division, Group Documentary:
Kaylee Hanson, Brook Harter, Dinah Bekkala, Hancock High School, "The Copper Strike of 1913: Mining the struggles of the industrial era"
Rebecca Yeshe, Natalie Larson, Nyomie Olson, Abigail Carr, Chassell High School, "The Lincoln-Douglas Debates: Leading to the end of slavery"    
Senior Division, Individual Documentary:
Mariah Hallstrom, Hancock High School, "Detroit Burning: The 12th St. riot"    
Senior Division, Individual Exhibit:
Cassie Simula, Hancock High School, "The Boundary Question: A simple debate that caused the Toledo War"
Leilani Johnson, Chassell High School, "Anna Howard Shaw: One woman's impact on women's rights"
Erica LeClaire, Dollar Bay High School, "How far is too far? Josef Mengele's debatable experimentation on the twins of Auschwitz"    
Senior Division, Group Exhibit:
Macy Holombo, Sara Kilpela, Ayla LaRoe, Chassell High School, "The Six-Day War: The war that could have put Israel and the Arab states at peace"
Cameron McKenzie, Jacob Wells, Joel Maki, Hancock High School, "The Rush-Bagot Agreement: The peacekeeper of the Great Lakes"
Braden Peterson, Brandon Joyal, Brian Kass, Hancock High School, "The Cuban Missile Crisis: At the brink of world's end"    
Senior Division, Group Website:
Jacy Goddard, Juliana Hupp, Chassell High School, "Kill the Indian, Save the Man"
Jamie Dompier, Kaitlyn Hietala, Ashley Laux, Chassell High School, "Suffragettes leading the debate over the ratification of the 19th Amendment"  
Katelyn Kelley,  Dylan Whittaker, Hancock High School, "Zero" 
Senior Division, Individual Website:
Aaron Posega, Hancock High School, "The Formation of the United Nations: Diplomacy around the world"
Brooke Corrigan, Lake Linden High School, "The My Lai Massacre"    
Local History Award:
Kaylee Hanson, Brook Harter, Dinah Bekkala, Hancock High School, Sr. Division Group Documentary on: "The Copper Strike of 1913: Mining the struggles of the industrial era"