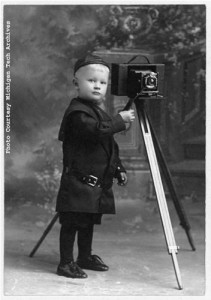 "People, Place and Time: Michigan's Copper Country Through the Lens of J.W. Nara," a traveling exhibit created by the Michigan Tech Archives, is on display through July 27 at the Peter White Public Library at 217 Front Street in Marquette, Michigan. The exhibit explores the life and times of Calumet photographer J.W. Nara and is open to the public during regular library hours. 
The public is invited to an illustrated lecture by Michigan Tech archivist, Erik Nordberg, about J.W. Nara's work. The presentation features additional historic photographs and explores the themes depicted in Nara's work. This event is scheduled for 3:00pm on Thursday, July 26, in the library's community room. 
Born in Finland, J.W. Nara immigrated to the United States and established a photographic studio in Calumet in the heart of America's most productive copper mining region in the early 1890s. Nara's lens captured downtown Calumet at its zenith, the lives of underground workers in the mines, local residents socializing at weekend picnics, and events of the bitter 1913 copper miners' strike. Nara's lens also recorded the Keweenaw Peninsula's rural landscape, providing some of the only photographs of farms and farm families during this era. As a commercial photographer, Nara took thousands of studio portraits – many purchased by immigrants to Michigan's historic copper district and shipped to family and friends across the globe. 
The traveling exhibit, funded in part by descendants Robert and Ruth Nara of Bootjack Michigan, works from historical photographs held at the Michigan Tech Archives. A small exhibit catalog is available at no charge and includes three Nara photograph postcards from the collection.  
The exhibit will remain on display at the Peter White Public Library through July 27. For more information on the exhibit, contact the Library at 906-226-4318 or the Michigan Tech Archives at 906-487-2505 and via e-mail at copper@mtu.edu. 
We are thankful to Johanna Boyle and The Mining Journal for wonderful front page coverage of this installation. View Johanna's story here.