Originally published in Tech Today, November 1, 2012
by Marcia Goodrich, Michigan Tech
The Michigan Tech Archives are recovering from the Oct. 26 fire and ensuing water damage. Though the facility remains closed, recovery crews are working to restore the area and its documents, with the aim of reopening it to the public.
At about 11:30 a.m. Friday, a fire broke out in the archives stacks, located on the garden level of the J. R. Van Pelt and John and Ruanne Opie Library. A fire alarm sounded and sprinklers were activated.
Michigan Tech Public Safety and Police Services responded immediately, as did Houghton City Police. The Houghton City Fire Department received a call at 11:50 and was on the scene at 11:57 a.m. They left after the fire was fully extinguished, before 1 p.m.
The fire was contained within a few square yards, but water damage was extensive. The floor was flooded, and several stacks of documents were heavily sprayed by the sprinklers and fire hoses.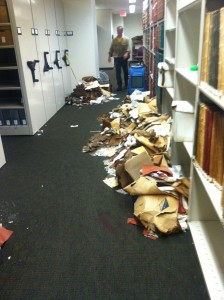 The response from the University community was almost instantaneous.
"We were genuinely overwhelmed by the number of people who were calling and coming to the building to see what they could do to help," said Archivist Erik Nordberg. "Staff from the archives and library were on the scene immediately, along with Public Safety and the custodial staff. We saw people from the social sciences department, from the Pep Band . . . As soon as they heard what was going on, there was an outpouring of assistance. We were all sharing in this tragedy."
Facilities' custodial staff worked into the night, removing water from the area and installing dehumidifiers. Library staff followed their emergency response plan and arranged for freezer trucks to be sent from Green Bay to pick up the water-damaged documents.
Meanwhile, dozens of library staff, faculty and students from across campus, National Park Service experts, and community members came to the scene to help. They removed boxes from the stacks, re-boxing and sorting them. They identified those with water damage so they could be loaded onto the Green Bay-bound trucks for freezer storage.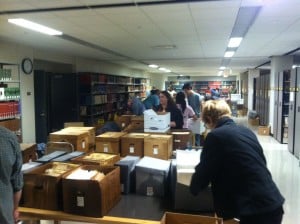 A total of 688 boxes of water-damaged documents were loaded onto the trucks, and in less than three hours they were on their way to Green Bay. Belfor, a worldwide disaster recovery and property restoration firm, is shipping the frozen documents to Fort Worth, Texas, to be freeze-dried.
On Sunday, Belfor set up a drying room in the library to restore documents that don't require freeze-drying. The company also conducted clean up of the archives site, including air filtration and odor control.
Less than 20 percent of the documents in the archives stacks were affected. Nordberg estimates that only a small amount of material may be damaged beyond repair.
Archives staff members are on duty, but the area is closed to visitors until further notice. The public and members of the University community are welcome to call 487-2505 or email copper@mtu.edu with questions.
Detective Sargent Dale Hillier of the Michigan State Police District 8 headquarters in Marquette is leading the fire investigation. A ceiling light in the archives stacks was severely charred in the fire, but the actual cause will not be known until the report is complete.
University Librarian Ellen Marks had high praise for the archives and library staff, citing Nordberg, Archivist Beth Russell, Strategic Initiatives Librarian Julie Blair, who drafted the emergency response plan, and Senior Project Archivist Rachael Bussert.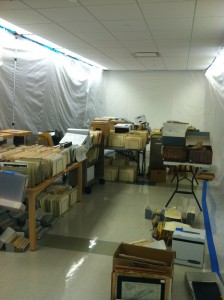 "Everything worked so well because of the quick response of the Houghton police and fire departments, Public Safety and our own Scott Ackerman [IT principal systems analyst], who's a volunteer firefighter," she said. "John Lehman [assistant vice president for enrollment services] did an excellent job as incident commander, and all the many student and faculty volunteers were wonderful. I'd like to give a special shout out to Pat Martin [chair of social sciences] and the social sciences students. We are so appreciative.
"I've only been here two years, but it's clear to me that Michigan Tech is a place where everyone really knows how to pull together," she said. "I'm really grateful."
———————————————-
The fire and disaster recovery have been covered by several media outlets:
– Garret Neese article in the Tuesday October 30 edition of The Daily Mining Gazette.
– Television news piece from Marquette-based WBUP ABC Channel 10.
– Text and image piece from Marquette-based WLUC TV6/FoxUP.
Associate Press distributed a version of the story which was picked up by additional media sources, including the Detroit Free Press