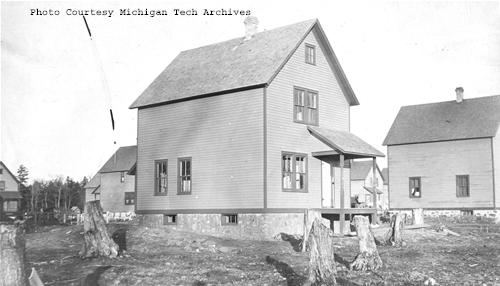 The Michigan Tech Archives is pleased to announce three recipients of awards in its 2013 travel grant program. Funding for the program is provided by the Friends of the Van Pelt Library, and encourages out-of-town scholars to visit Houghton to undertake research using the collections of the Michigan Tech Archives.
Robert Goodrich, associate professor of history at Northern Michigan University, will research the significant role of ethnic Slovenes in Michigan's Copper Country. Part of a larger research initiative examining emigration from the former Habsburg Empire to Michigan, Goodrich will explore the important Slovene presence in the Keweenaw, including missionaries such as Frederic Baraga and the development of a large Slovene immigrant community in the mining town of Red Jacket. Goodrich, who holds a PhD in European history from the University of Wisconsin-Madison, is currently under contract with Michigan State University Press for book tentatively entitled Austro-Hungarians in Michigan scheduled for publication in 2014.
Michael Loukinen, professor of sociology at Northern Michigan University, will undertake historical research in support of a documentary film project about the "almost ghost town" of Winona. Located 30 miles southwest of Houghton, Winona was a prospering copper mining community in the early Twentieth Century. Although mining and timber industries faded from this remote landscape in the 1920s, the town site continues to support a small community including a school and a church. Archival research will provide the necessary historical background for recorded interviews with current and past residents of Winona. Luokinen holds a PhD in Sociology from Michigan State University and is the writer and producer of more than a dozen documentary films including the critically acclaimed Good Man in the Woods, Medicine Fiddle and a series of films documenting traditional Ojibwe culture and teachings.
Patrick Pospisek, a recent graduate of the doctoral program in history at Purdue University, will explore early federal mining policy in Michigan's copper mining district.  While silver and gold mining in the American West had significant impact on the federal government's approach to mineral legislation, earlier experiences in mining regions before the Civil War were equally important to defining federal authority in developing mining districts. Pospisek's research will examine the collapse of an early federal leasing policy in Michigan's copper district which encouraged the development of a private, corporate mining industry. The Michigan study will form one component of a larger book-length study of United States mining history in the Mississippi Valley and Midwest.
As part of their research visits, travel award recipients will present a public presentation – either on their research in progress or on a topic from their previous work. Information about these events will be distributed as they are scheduled.
Since 1998, the Friends of the Van Pelt Library have supported more than 30 scholars and researchers from across the United States, Canada, and Europe to access the Archives' collections. Books, articles, presentations and web content have resulted from the work of travel grant recipients, helping to draw attention to the holdings of the Michigan Tech Archives and the history of Michigan's Copper Country and Upper Peninsula.