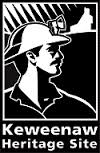 The Michigan Tech Archives is pleased to share the news that we have been selected as a Keweenaw National Historical Park Heritage Site in recognition of our status as a unique and valuable cultural resource.
We have long been an unofficial partner with the Park, and selection as a Heritage Site bestows a formal recognition that is well deserved. The Michigan Tech Archives were cited as one of two of the University's "outstanding resources" by the Keweenaw National Historical Park Establishment Act, which went before the House of Representatives in 1992. The other was the Seaman Mineral Museum, which became a Heritage Site in 1998.
Not only do our collections illuminate the past, but they enable Michigan Tech students and researchers from all over the world to connect the past to the future, thereby deepening our understanding of the social and cultural contexts of our contemporary world.
Michigan Tech students, staff, and programs are recognized worldwide for innovation and excellence. The Archives is very proud of this opportunity to contribute to and support the University's mission and goals. We look forward to the opportunity to collaborate with our new partners in telling the story of Keweenaw copper.