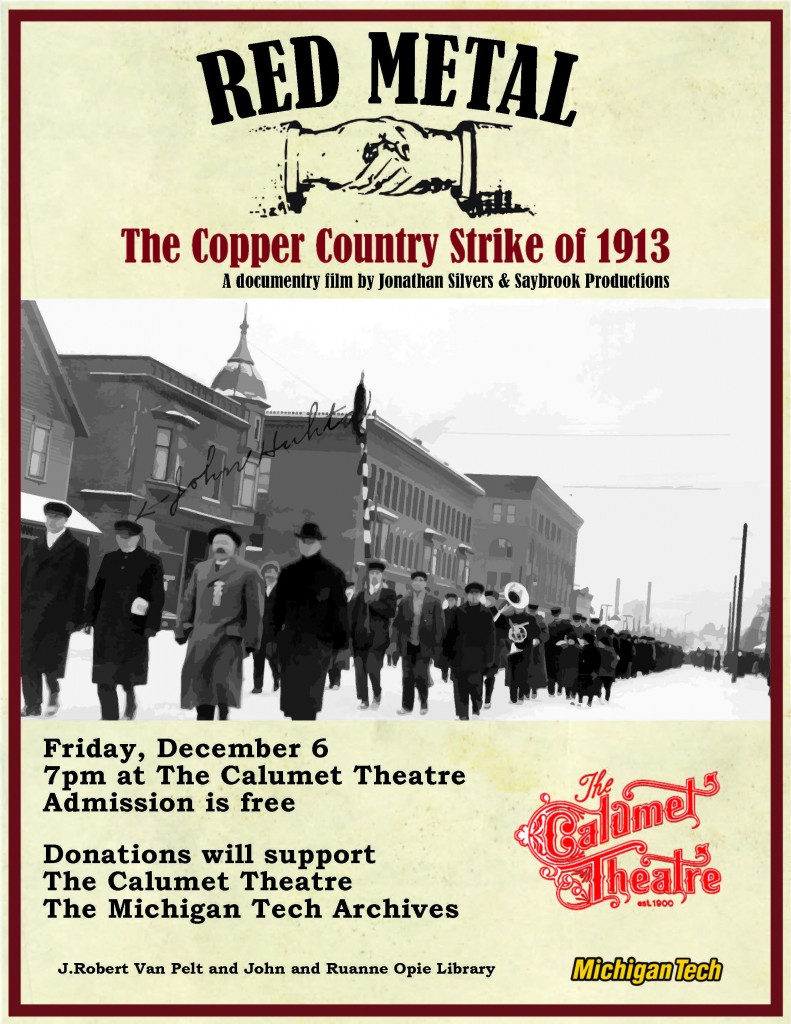 The Michigan Technological University Archives and Copper Country Historical Collections presents the premiere of Red Metal: The Copper Country Strike of 1913, a documentary film by Emmy award-winning producer Jonathan Silvers & Saybrook Productions. The film will be shown Friday, Dec. 6, 2013, at 7 PM at the Calumet Theatre. Admission is free. Donations are welcome and will go to support the Calumet Theatre and the Michigan Tech Archives.
Red Metal: The Copper Country Strike of 1913 focuses on the 100th anniversary of an epic labor strike that devastated Michigan's Copper Country and made a lasting impact on the American labor movement with the Italian Hall Disaster that left 73 people dead. The tragedy was immortalized by Woody Guthrie in his ballad "1913 Massacre," performed in the film by Steve Earle.
Narrated by Richard Harris, the film traces the Copper Country strike from its hopeful start to that tragic conclusion. Using more than one hundred images from the rich historic collections of the Michigan Tech Archives, Red Metal explores the intensifying battle between organized labor and corporate power, as well as related issues of immigration and technology.  The strike's cultural legacy influenced national discourse, music and legislation during the Progressive Era. As the centennial of the Italian Hall Disaster approaches, a new generation of Americans has begun paying tribute to the victims, while also deliberating the strike's causes, outcomes, and legacy.
Following the film, there will be a Q&A session with Steve Lehto, historical advisor to the film, author, and lawyer.  Among his books are "Death's Door: The Truth Behind the Italian Hall Disaster and the Strike of 1913," and "Michigan's Columbus: The Life of Douglass Houghton." He taught law and history at the University of Detroit for ten years.
Please join the Archives for the premiere of Red Metal: The Copper Country Strike of 1913 at the historic Calumet Theatre on Dec. 6, 2013 at 7 PM. Admission is free. Donations are encouraged. For more information, contact the Archives at 906-487-2505.