Date: June 25, 2014
Time: 2:00pm – 4:00pm
Location: Rovano Plaza outside of the Library Building (Opie Reading Room in case of rain)
Campus and community members are invited to a farewell party on Wednesday, June 25, from 2:00pm to 4:00pm on the Rovano Plaza, located on the East side of the Library Building near the Campus Cafe. If the weather is not suitable for an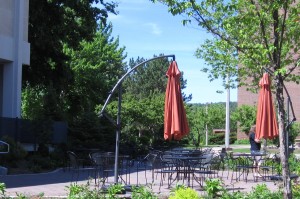 outdoor gathering, the party will be held in the Opie Reading Room. The Michigan Tech and Copper Country Archives will be closed for the duration of the party, but will open again afterwards from 4:00pm to 5:00pm.
We are celebrating the next prestigious phases of the careers of Beth Russell, Archivist, who will be joining the Special Collections Department of the Raymond H. Fogler Library at the University of Maine in Orono as an Archivist and Special Collections Librarian.  Beth had made outstanding contributions to the University Archives and Copper Country Historical Collections.
Rachael Bussert, also a member of Archives staff, has successfully concluded a two-year grant from the National Historical Publications Records Commission as the Senior Processing Archivist. Rachael is going to work as the Congressional Papers Archivist for the Hamilton Library at the University of Hawaiʻi at Mānoa. Both Beth and Rachael also made substantial contributions to recovery efforts following the fire in the Archives' closed stacks in 2012.
We will also wish a fond farewell to Ben Bussert, who will be heading to Hawaii with Rachael. Ben has been a specialist in customer relations, and was instrumental in enabling the library to initiate its 24 hour operation last October.
The Library's Associate Director for Education and Research, Margaret Phillips, will be leaving the area for family reasons. She will continue to lead the library in the integration of information literacy among Michigan Tech's educational departments, while continuing to work with the university level assessment programs and contributing to the library's strategic plan.
We hope to see you on the Rovano Plaza!