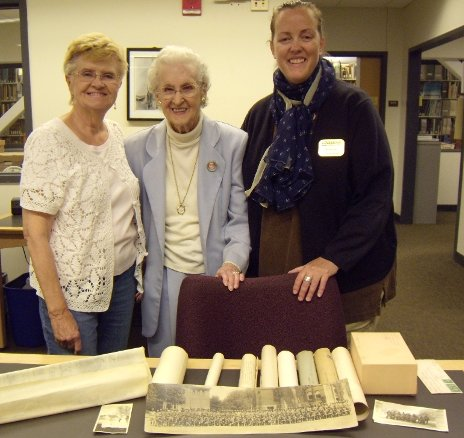 The Michigan Technological University Archives and Copper Country Historical Collections was pleased to welcome a new collection this week thanks to a local resident. Ellen Raymond, a 94 year old from Baraga, visited the archives on Tuesday, July 8 and donated a family collection of World War I era documents and ephemera.
After finding a stash of documents and photos in her closet, Raymond wasn't quite sure what to do, but her friend Sharon Eklund, a volunteer for Little Brothers Friends of the Elderly who looks in on Raymond, had a pretty good idea. Eklund suggested donating the materials to the Michigan Tech Archives and that is exactly what they did. After coordinating the donation with Archivist Beth Russell, Raymond and Eklund arrived earlier this week to present the material and formally pass ownership to the archives. The donation ceremony was attended by library staff, Little Brothers representatives, and various journalists.
The collection is a file that had been preserved by Raymond's father-in-law, Harvey William Raymond. It includes his diploma from Baraga High School, a certificate of mine safety from what was then the Michigan College of Mines, correspondence between H.W. Raymond and his fiancée, and several photos, one of particular importance to Michigan Tech as it showcases a class photo taken in 1918 of new recruits at Michigan Tech's military training facility.
The Michigan Tech Archives does not have many documents or photos from the World War I era so this donation is an important one to broaden our holdings. Archivist Beth Russell called this a "wonderful collection" and it is a perfect example how community donations can enhance the materials we have to offer researchers. The collection will be arranged and cataloged to make it available to researchers in the archives and there are possible plans to have some of the photos scanned and placed in the Keweenaw Digital Archives, where they can be widely accessible even to those unable to visit the archives in person. Overall, Raymond is delighted that her father-in-law's papers have found their way to a historical collection where the documents and photos will be preserved for future generations. "I think it's great, and I think he would be proud," she said, to know that his papers have found their way to a place such as this. Please monitor our blog and Facebook page for news on when this collection is available for use.
Thanks to the generosity and thoughtfulness of local donors the archives is able to collect, preserve, and make available resources of historical importance.  If you have a collection you think may be suitable to donate to the archives, please contact Lindsay Hiltunen at lehalkol@mtu.edu or by calling (906) 487-3209 or (906) 487-2505.  Inquiries about donations can also be directed to Ellen Marks, University Librarian and Library Director, at ebmarks@mtu.edu or by calling (906) 487-2500.