The Michigan Tech Archives will be closed Thursday, November 27 and Friday November 28 for the holiday. Standard operating hours will resume the week of December 1.
Every year we are met with advertisements for upcoming holidays, and Thanksgiving is no exception. Below, we have a small selection of Thanksgiving advertisements dating from the early to mid 1950s originally published in the Daily Mining Gazette. Only some of the businesses that took out space for these ads are still operating in the Copper Country today, but the traditions and scenes depicted in all of the ads remain familiar.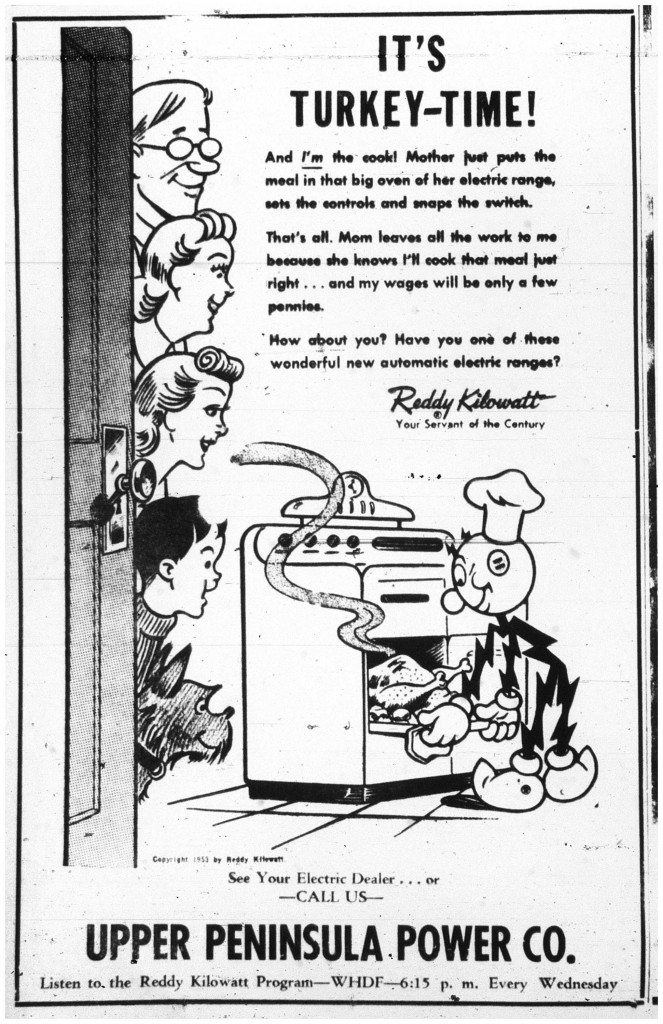 Upper Peninsula Power Company's mascot, Reddy Kilowatt, cooks Thanksgiving dinner for a family in the Upper Peninsula. All mother needs to do is set the control and snap the switch of her big electric oven and her work is done, Reddy Kilowatt takes care off the actual cooking – and for only a few pennies!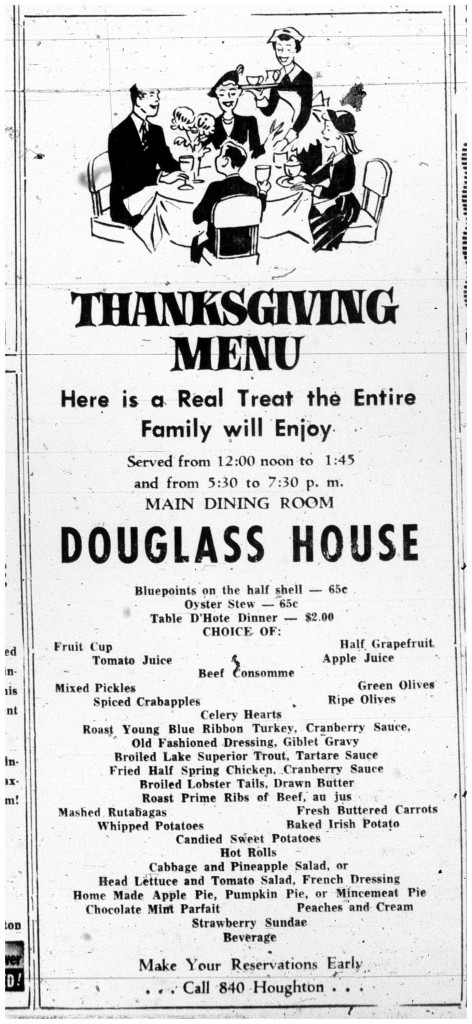 If you would like to completely remove the hassle of cooking a family meal, the Douglass House offered blue point oysters on the half shell or oyster stew for $0.65 and a table d'hote dinner for $2.00.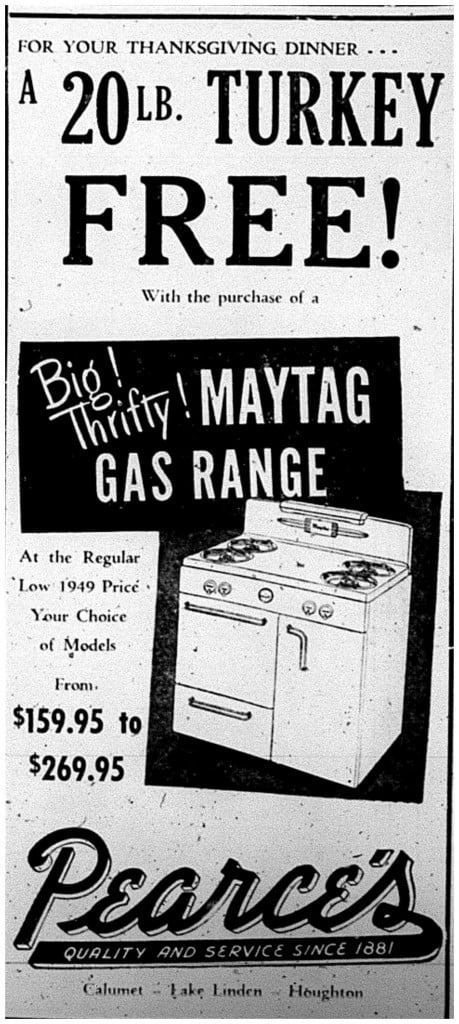 In the autumn months of 1950, Pearce's advertisement  for Maytag gas ranges boasts 1949 prices and even offers a free twenty pound turkey with purchase. Who says we can't have it all?

What says Thanksgiving like Spam and cranberries? In 1950, Eatmor Cranberries published this hot dish recipe for readers so they might have something new to serve at Thanksgiving – and to boost the season's cranberry sales.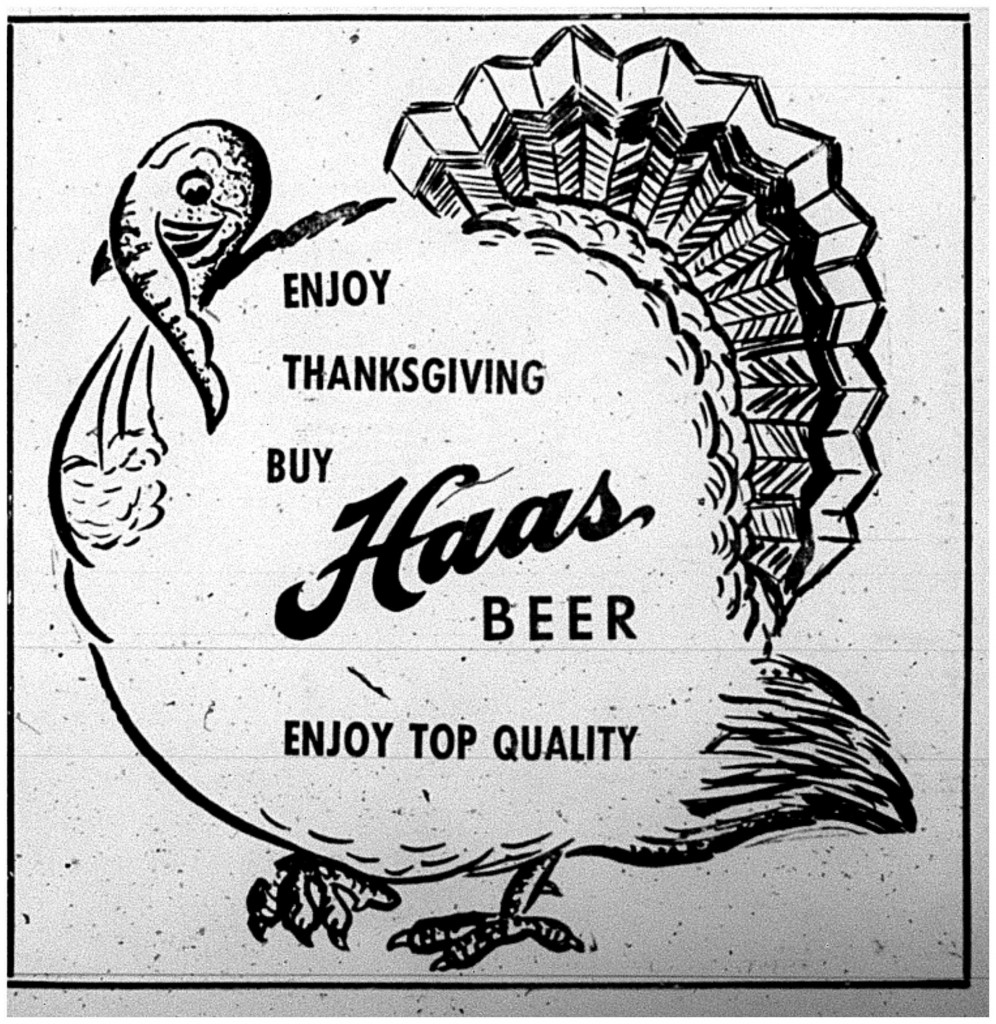 Haas Brewing Company of Houghton keeps their ad simple with this contented turkey cartoon and straightforward message.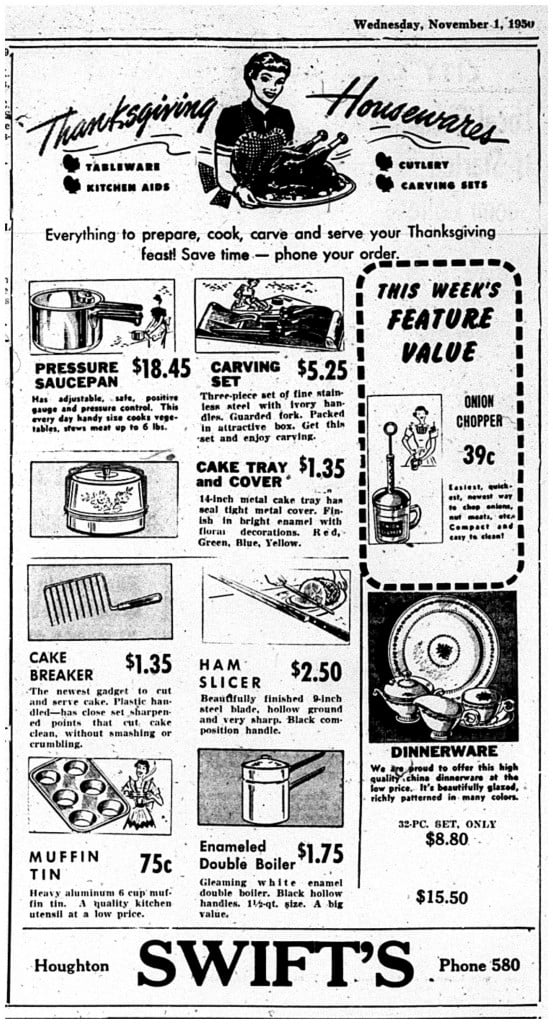 Swift's Hardware of downtown Houghton advertises their kitchen wares. Stocking everything from pressure saucepans and double boilers, to tableware and cake covers, they sell nearly everything needed for a great Thanksgiving dinner – minus the turkey.
These newspapers, along with around 70 other local historic newspapers are available for viewing on microfilm at the Michigan Tech and Copper Country Archives. Feel free to call us at (906) 487-2505 or email us at copper@mtu.edu to learn more.