This is the first of two articles written by one of our student assistants, Andrea Dubs, who is working with us on the Mine Memories Oral History Project as our Audio Technician. She is responsible for much of the recording that we do during our interviews and refining audio files for clarity.
Part one out of two:
I have been working with the Michigan Technological University Archives and Copper Country Historical Collections as a student assistant for a little over a month now, and I must say that it has been quite interesting. Even though I've only been here a short amount of time, I feel like I'm part of the family. Everyone is always smiling and has a happy greeting for you when you walk in. I am currently working as the audio technician on the Mine Memories Oral History Project.  This project is really very interesting, listening to people telling their stories and realizing that it is their history has had a huge impact on me.
When I first joined this project, I had no idea what to expect. I was in new territory but I was also prepared to learn new things. As the audio tech for this project, I had to first learn how to use the recorder that had been purchased. The recorder we are using is a Zoom H5. I watched several YouTube videos and skimmed through the user manual to work out the best ways to use the equipment in an interview setting. After learning how to use the recorder, I learned how to edit audio files in Audacity, a free open source audio editing software. To do this, I watched several tutorial videos.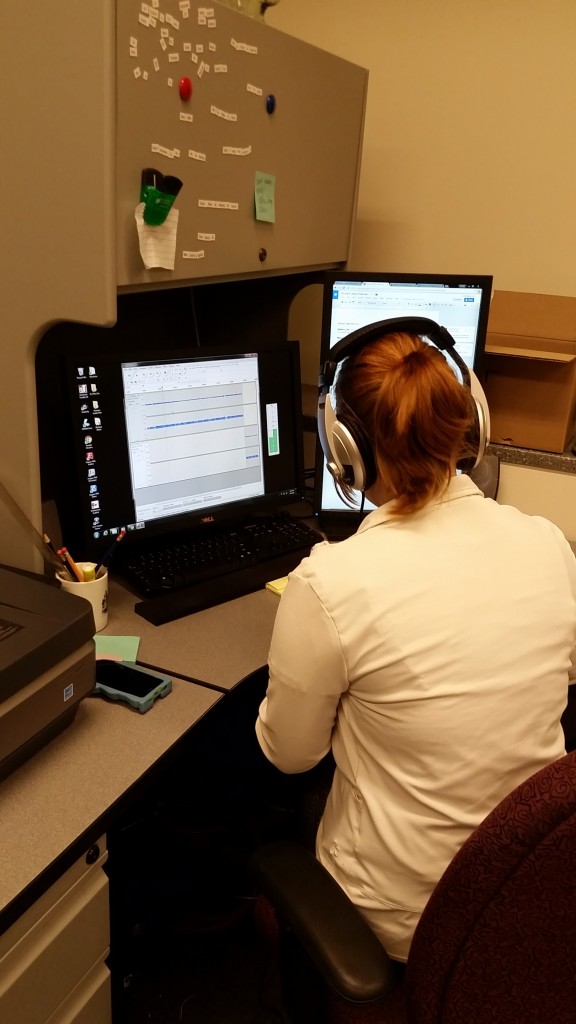 After familiarizing myself with the Zoom5 and Audacity, I started to think about how we would be using the recorder specifically in an interview setting. I worked out the optimal location for the recorder so that it could pick up the both  interviewee and interviewer voices. We started asking questions such as: how can we minimize the effects of people tapping on the table? How can we minimize drastic sound shifts caused by coughs or sneezes? How can we equalize voices that are speaking at very different volumes, so the audio recording is easier to listen to for researchers?
In order to answer these questions, Sawyer Newman (Communications and Research Assistant), a graduate student volunteer and I sat down to record several mock interviews. In these interviews, the interviewee and interviewer did different things that could occur during the actual interviews. For example, they did some table tapping and covered their mouths with their hands or spoke particularly loudly or softly.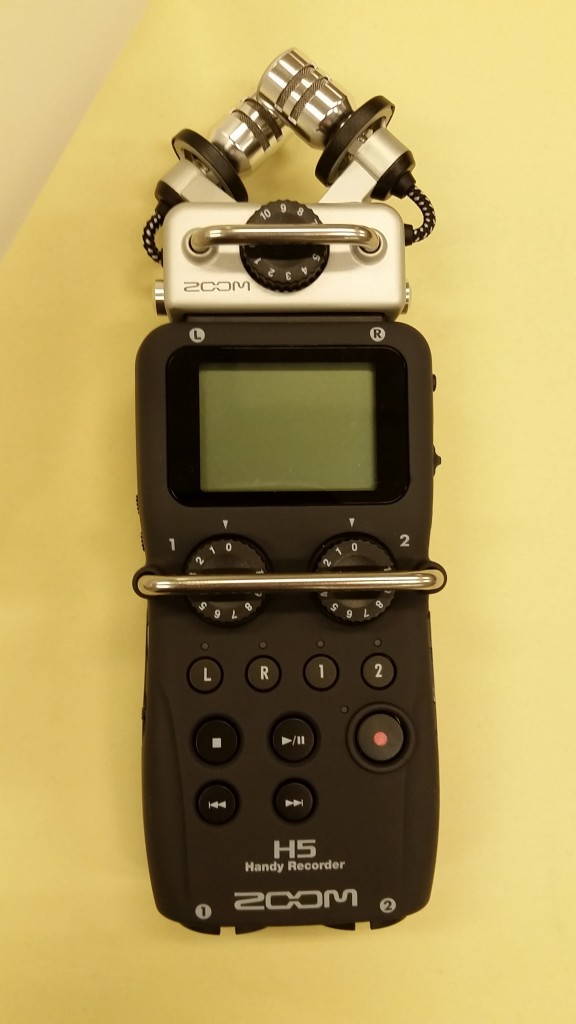 From these tests, we were able to determine the optimal location and input volumes for the recording equipment, which gave us a good idea about how much space we would need to conduct an interview. We also determined that we should use a muffler over the microphone, and place the recorder on a tissue box or stack of newspapers in order to minimize the effects of distracting sounds, such as tapping.
Stay tuned for the second installment, which will be posted later this week. 
If you have any questions about this project, or if you would like to share your mine-related histories, please contact the Michigan Tech Archives at copper@mtu.edu or at 906-487-2505.
The Mine Memories project is funded in part by a Heritage Grant from the Keweenaw National Historical Park Advisory Commission.