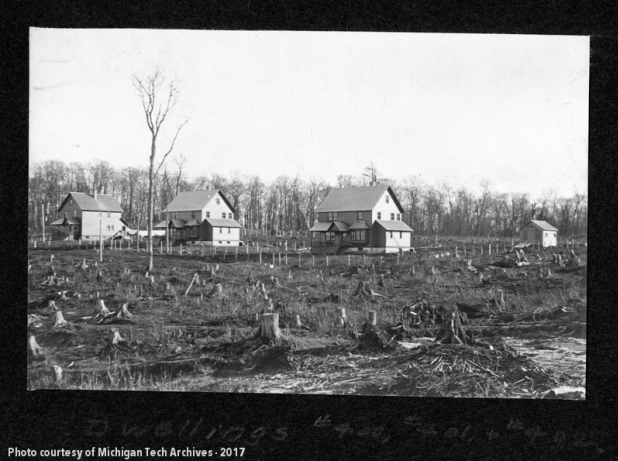 The following post is by our Assistant Archivist resident, Emily Riippa.
Most families have their legends about black sheep, relatives whom the older generation spoke about in lowered tones or with the admonition that little pitchers have big ears. Sometimes, the subjects of these stories simply marched to the beat of their own drums; other times, they fought the law, and the law won. While Houghton County was never a Deadwood or a Tombstone, its mining communities had their share of residents who ran afoul of Lady Justice. The details of their brushes with the law from about 1900 through the early 1970s are part of the Houghton County Circuit Court Records here at the Michigan Technological University Archives and Copper Country Historical Collections. The records–which also include civil suits and divorces–are a hidden gem for genealogists.
Often weighed down with legalese, case documents can at first be daunting for even practiced researchers. With a little patience, however, the circuit court files add new dimensions to ancestors who might otherwise have been understood through sparse details provided by census records or death certificates. Perhaps you'll discover a wife you never knew your great-uncle had or a criminal past no one had ever discussed. On other hand, maybe that black sheep has been talked about for years, and the stories of their misdeeds seem to be growing more colorful with every retelling. The sworn testimony of witnesses and first-hand sources collected by the Houghton County Circuit Court put family legends to the test, dispelling myths and sometimes uncovering truths even more interesting than fiction.
I had the opportunity to use these documents for just such a project of my own, and I hope that walking through my example will inspire and guide others researching their family history. Great-Grandmother Marija Riippa was an immigrant from Finland, the widow of a disabled miner, the mother of ten, and a petite woman who never reached five feet in height. She was also, my family said, an inveterate moonshiner whose profits eventually took her from impoverished to financially comfortable. Who said Prohibition wasn't a success? Although my dad had known Marija well in his childhood, I sometimes wondered whether all of these larger-than-life stories could be true. The Circuit Court files offered the perfect arbiter between family legend and legal truth.
I began, as anyone wanting to look for their relatives in these documents should begin, by searching for my great-grandmother's name in the index to parties involved in the various cases. Archives staff happily conduct this search on behalf of all patrons. Be prepared to think creatively when starting your research: courts often managed the spelling of names or substituted English equivalents of foreign names. Marija, for example, was normally listed as "Mary," and her surname was usually spelled "Rippa" or "Riipa." My search yielded five criminal cases–as indicated by the State of Michigan serving as plaintiff–and, interestingly, one civil suit filed by Marija against the Houghton County Road Commission. While the database gives hints as to whether a case was related to a divorce, criminal charge, or civil matter, it does not list dates, charges, or outcomes. The next step was to pull the case files.

What you'll find in a case file depends on the nature of the suit and how far it was carried out before reaching some sort of resolution, like a settlement, conviction, or finalization of a divorce. Summons, complaints, and injunctions describe why the case was brought to court; witness lists give a sense of who an accused person knew and how widespread the knowledge of their alleged crime had been. If the case went to trial, transcripts of the proceedings provide the most vivid, detailed descriptions of what took place to bring the case to court and inside the courtroom.
Marija, I discovered in looking through the documents, was charged at least three times "violation of the prohibitory liquor law" between 1922 and 1928. The first indictment also involved her husband, Joel, a miner who was no longer able to work. With Prohibition in full force, the couple apparently seized on a new business opportunity to put food on the table. Perhaps swayed by Joel's disability and the small children at home, the court dropped the charges. After Joel died in 1923, Marija persisted in their business. The state brought charges against her again, but this second case went no further than the first. Finally, any mercy the court had offered wore thin. In July 1928, the sheriff and one of his deputies arrived at Marija's house in Winona. Finding her not at home, they presented her daughter Julia with a warrant, confiscated the supply of liquor, and eventually arrested the moonshiner herself. When Marija stood trial and the prosecutor questioned the sheriff about the raid, he responded that he had taken seventy-five bottles of alcohol from her house. The court reporter captured Marija's indignant outburst from the defense table, where she was representing herself: "There were only forty-two bottles!"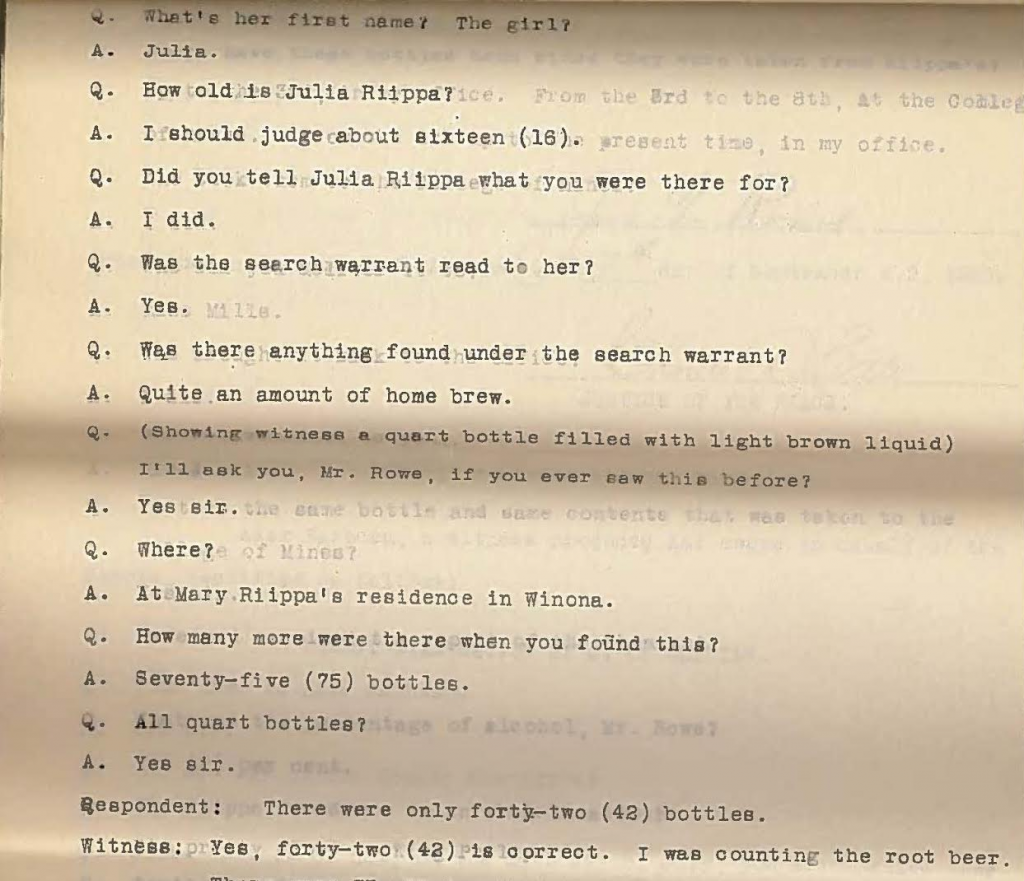 So, what family history insights can I take away from these files? First of all, the family legends were, amazingly, true. Great-Grandmother Marija was a moonshiner, and she had done well for herself: two witnesses testified that she was charging $0.25 per glass of whiskey and a dollar for a pint. Documents in the civil suit told me that she had sued the Houghton County Road Commission in 1927 after one of their trucks collided with her touring car–another detail from the stories that proved accurate and testified to her success. In addition to confirming family lore, the court files showed me more about Marija as a person: she was a tenacious woman who kept going in spite of what life sent her way; she was enterprising, and the number of people testifying that they had purchased from her shows that she knew how to develop a customer base; and she was proud and not about to let the sheriff err in describing her moonshining, even if she incriminated herself in the process.
With some patience for making sense of the Houghton County Circuit Court Records, you, too, might uncover family secrets, the truth about family legends, or a vivid personality to add new understanding to a distant past. Staff of the Michigan Tech Archives are always ready and eager to help you begin your research into this fascinating collection. Simply stop by during normal business hours, e-mail copper@mtu.edu, or telephone (906) 487-2505.