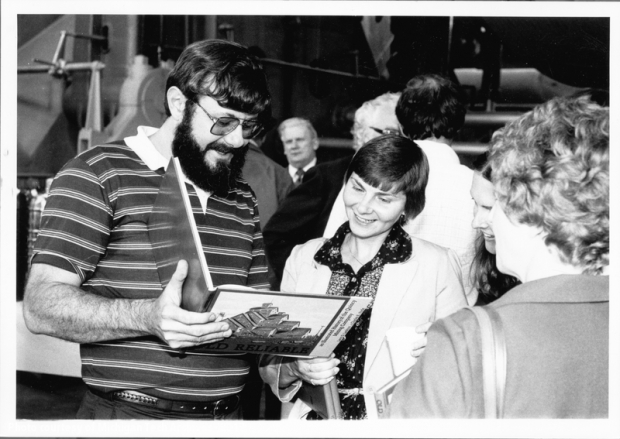 Since October is American Archives Month, our first Flashback Friday of the month pays tribute to all the archivists that have ever worked to collect, preserve, and provide access to the archival materials and special collections at Michigan Tech.
The photograph from August 1982 prominently features our first university archivist, Theresa Spence, speaking with author and professor emeritus, Larry Lankton at Author's Day at the Quincy Mine. Larry was promoting his new book, Old Reliable, which was co-authored by Charles Hyde. From left, Larry Lankton; Theresa S. Spence; librarian Amanda Binoniemi; and archives assistant Kay Masters.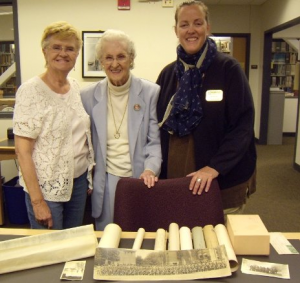 The Michigan Tech Archives has a long history that traces back to the early years of the university. The Upper Peninsula copper boom was more than forty years old when the Michigan Mining School (now Michigan Technological University) first opened its doors in the 1880s. In the early years of the school, A.E. Seaman, professor of geology and mineralogy, was given the responsibility for purchasing sets of mining, geology, and engineering journals. As time went on, more titles were sought to build the library and efforts were made during the 1930s to separate important historical titles from the general library stacks. Space limitations prohibited active solicitation of other local history collections at this time.
When the new library building was being planned, a reading room and storage area was specially designed for the historical collections. The first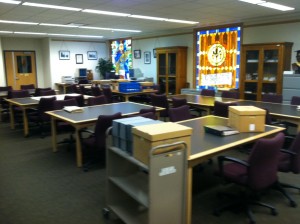 archives reading room at Michigan Tech opened to the public in July 1966. With the new space came the first real stimulus to actively solicit local history materials. Michigan Tech signified its commitment to an active archival program in 1978 with the hiring of Theresa Spence, the first professionally trained archivist at the university. The department quickly developed the procedures and policies necessary to solicit and make available premier collections pertaining to the history of Michigan Tech and the local region. The department formally adopted its current name, the Michigan Technological University Archives and Copper Country Historical Collections in 1980. The department continues to grow and has seen many wonderful professionals and support staff throughout its long history. The Michigan Tech Archives is actively growing and currently has three professional archivists, one archives assistant, and one student assistant to protect the collections and provide research support and other services.
If you have any questions about the Archives or American Archives Month, please contact the department at (906) 487-2505 or e-mail copper@mtu.edu.