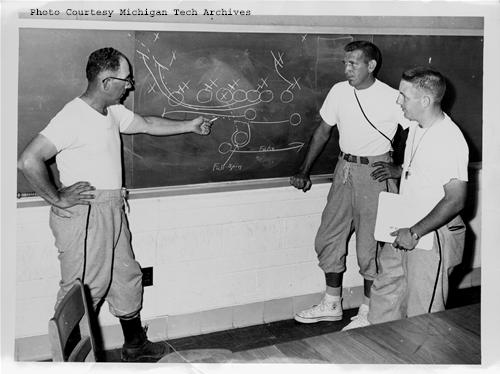 Today's Flashback Friday offers a little homecoming and gridiron nostalgia for your weekend. Very few homecoming festivities on any campus across the country can rival Michigan Tech's for zaniness, uniqueness, and all-around fun! In addition to the sacred gridiron tradition of the Michigan Tech Huskies homecoming football game, the celebration features the crowning of the homecoming royalty, a cardboard boat race on the Portage Canal, competitive challenges, and many other events that promote Husky Spirit.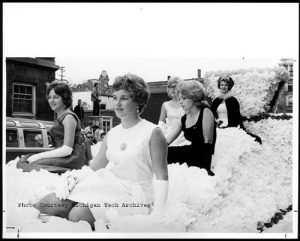 The crowning of the homecoming royalty is one of the most anticipated aspects of homecoming week. The photo in the insert was taken of the homecoming queen and candidates at the 1963 parade by Roger La Mothe. Shown on the float from left to right we have Maria Mustonen, Peggy Foley, Kristine Rowbottom, Mary Lou Junttila and Barbara Perlich.
In celebration of the football game, the main Flashback Friday photograph shared at the front of this post takes us to September 1958 when the Michigan Tech football coaches were hard at work making a game plan for the upcoming Mankato State game. At left, Head Coach Omer LaJeunesse shows a new play to Back Coach Verdie Cox and End Coach Bill Lucier. LaJeunesse indicated that he might unveil an updated version of his standby offense based on the material at hand.
The coaching meeting took place on Thursday, September 11th to plan for the opening game at Tech's Hubbell field that Saturday. Despite blackboard tactics and intense on-field practices, the Huskies fell to Mankato State, 26-16. But even though Coach LaJeunesse started off the season with a young squad and two defeats, the Huskies pushed back with three straight victories and continued to show improvement throughout the 1958 season. The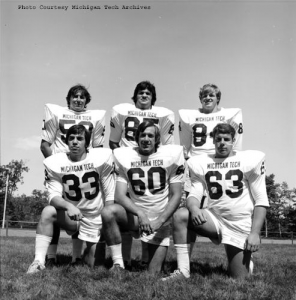 team closed out the season with a 4-4 record, which was admirable in the first year of play in the Northern States Colleges Conference. While much of the buzz this week has been about hockey in all its forms, the focus this weekend is on the Michigan Tech Huskies against Grand Valley State for this year's home opener match up. Kick-off is at 1pm at Sherman Field. 
Other homecoming traditions have included various kinds of parades, creative and athletic contests,  and races in all shapes and sizes. For a full schedule of this years homecoming events, please see the Homecoming page on the Student Leadership and Involvement website.