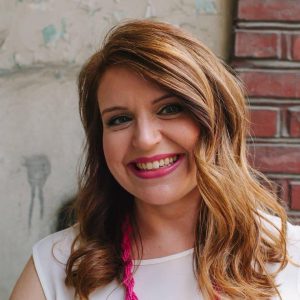 Please join us for visiting scholar Katherine Belliel at 4:00 pm on Friday, November 1 in the East Reading Room of the Van Pelt and Opie Library on the Michigan Technological University campus for her travel grant talk, "The Hats of Calumet and Women in Front: Creative Writing About Women of the Copper Country." This event is free of charge and open to the public. Refreshments will be served.
In this presentation, Belliel will discuss the research process and inspiration behind her two creative projects on the life of Calumet native, and Michigan Women's Hall of Fame inductee, Anna Klobuchar Clemenc. The Hats of Calumet is a collection of short fiction pieces told from the perspective of a variety of hats worn by different historical characters narrating the crucial events in Anna's life. This project illustrates how domestic violence, infertility, immigration, and the "third culture kid" (TCK) experience both influenced and spurred her activism, tying Anna to not only American Labor History, but also the current Women's Movement of today. "Women in Front," a braided essay comparing and contrasting the role of women in the 1913 Copper Country Strike with the 2013 Gezi protests in Turkey, will also be discussed. A short reading from both creative projects will follow the discussion.
Katherine Belliel is an American writer based in Turkey and the US. She is the co-editor of Expat Sofra: Culinary Tales of Foreign Women in Turkey (Alfa 2019), and her work has also appeared in several expat anthologies such as Tales from the Expat Harem (Eds. Ashman and Gokmen, 2005), Encounters with the Middle East (Bowman and Khashan, 2006), and Single Mothers Speak on Patriarchy (eds. Hendren and Daly, 2016). She is currently an MFA candidate at Northern Michigan University.
Belliel's research visit and presentation are supported by a travel grant from the Friends of the Michigan Tech Library. Since 1988, the Michigan Technological University Archives Travel Grant program has helped scholars advance their research by supporting travel to the manuscript collections at the Michigan Tech Archives.
For more information, feel free to call the Michigan Tech Archives at 906-487-2505, email at copper@mtu.edu, or visit on the web at http://www.lib.mtu.edu/mtuarchives/. You can also find us on Facebook, @mtuarchives on Twitter, and as michigantecharchives on Instagram.