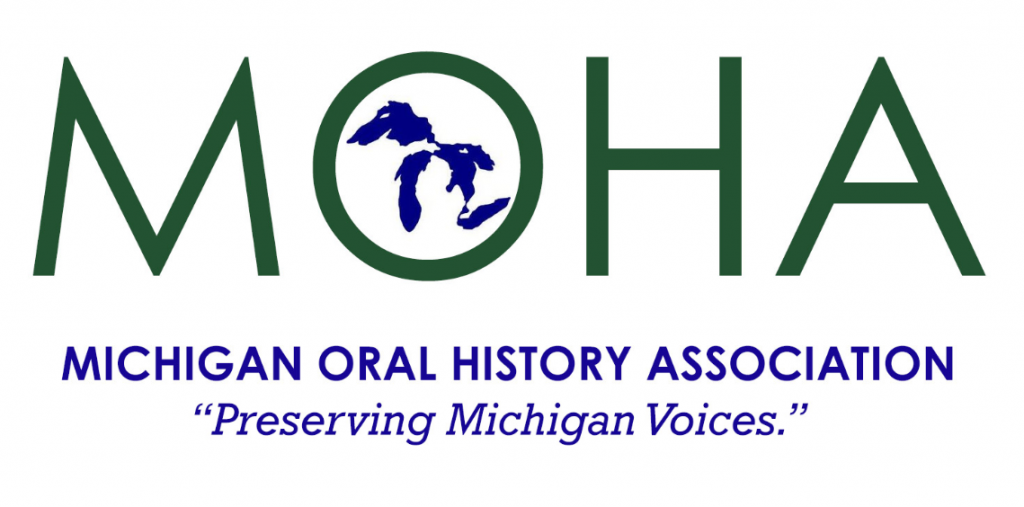 The Michigan Oral History Association is currently seeking proposals for the MOHA 2020 Conference. We welcome proposals for presentations, sessions and papers on oral history projects:
Focused on Michigan, and/or
Led by Michigan-based scholars
Research projects (issues analyzed with oral history methods and interviews)
Collections of oral histories focusing on a particular time period/community/group
The Program Committee seeks a diverse slate of presenters representing a variety of personal and institutional backgrounds, perspectives, and voices.  We encourage submission from anyone interested in presenting – including students, new and seasoned professionals, first-time presenters, and those from allied professions. See our brainstorming Google Sheet below to share ideas and start building possible panels.
Proposals may be one of the following:
Presentation Panels with up to three powerpoint presentations (15 minutes per presentation), plus a chair and/or discussant.
Non-Traditional Panels 5-8 contributors to a session formatted as a roundtable, lightening round or Pecha Kucha. In addition to contributors, non-traditional panels may also have one moderator.
Individual Presentation or Partnered/Panel Presentation on a common theme. An example could be a longer presentation on a case-study of a successful oral history project, discussing challenges, successes, methods, and a Q & A.
Paper Panel with up to three academic papers presented (15 minutes per presentation), plus a chair and/or discussant. Co-authored papers are welcome.  If you have a large group of colleagues who want to present papers, divide your group into two panels.
Proposals should include (see accompanying Submission Form):
"Participant List"
"Abstracts" (containing type of session format proposed and Session Title, accompanied by a 300-word abstract PLUS all individual paper/contribution titles, each accompanied with a 200-word abstract.
All participants who are accepted into the Conference program must become MOHA members by the time of the conference.
PROPOSAL DUE DATE:  December 16, 2019 
Send your proposal files as email attachments (.docx only please) to Lindsay Hiltunen at lehalkol@mtu.edu.  Questions may be directed to Ms. Hiltunen at her e-mail or (906) 487-3209.
Request e-copy of Submission Form to info@michiganoha.org.
Brainstorming:  No sign-on required link: https://docs.google.com/spreadsheets/d/1tT8FsPzfSUQobrIDJSr_6c8FN5hvPae9SSGY_yv_yjU/edit?usp=sharing