On Tuesday, September 14, at 7 p.m., the Michigan Tech Archives Speaker Series hosts visiting scholar Jennifer Gunn in Room 642 of the Dow Building on the Michigan Tech campus.
Gunn will present "Matching the Care to the Place: Medical Provision in Mining Regions, 1900 to 1950." Mining, logging, and farming could mangle bodies and it took more than a wife to mend them. In the Copper Country, mining companies employed doctors, built hospitals, and taxed their workers to support that medical infrastructure.  On the Iron Range of Minnesota, however, a similar contract system was used to induce private doctors to take responsibility for creating hospitals and the public health in the remote rural areas. As mining and extractive industries declined, what were the remaining residents' expectations of health and medicine? What arrangements emerged for health care in small towns and rural communities to replace the industrial-dominated medicine?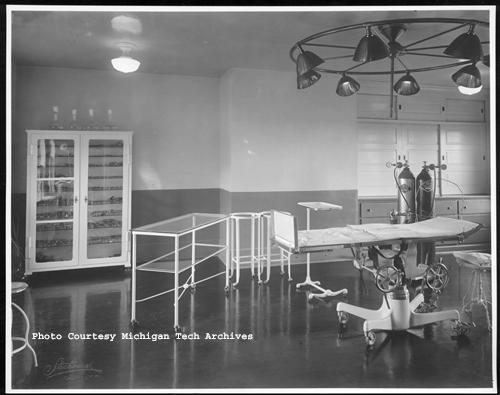 Jennifer Gunn is Associate Professor and Director of the Program in the History of Medicine at the University of Minnesota. She earned her Ph.D. in the History and Sociology of Science from the University of Pennsylvania., where her dissertation was on the history of graduate medical education in the United States. Her first publication was on industrial medicine. Currently working on a book on rural health and medicine in the Upper Midwest, 1900-1950, Professor Gunn's interest in mining communities and rural health disparities in an urbanizing society is informed by her experience as a coal miner in Alabama.
Gunn's presentation is sponsored by the Michigan Tech Archives and the Friends of the Van Pelt Library. Since 1998, the Michigan Tech Archives Travel Grant has helped scholars advance their research by supporting travel to the manuscript collections at the Archives. The program is intended to encourage research using the Archives' lesser known collections or promote new methodological approaches to well-known collections. From a competitive field of applicants, the grant committee selected four scholars this year whose research typifies the spirit of the grant program. They join the ranks of twenty-two past recipients in this most recent round of awards.
For more information on the September 14th presentation, call the Michigan Tech Archives at 487-2505.
Update: Here is a photo from the event, with more than 40 in attendance: