The International Business Ventures took first place in the Enterprise program and the
First Place Award Enterprise IBV (International Business Ventures)
Team Leaders: Leslie LaLonde and Andrew Clark, Biomedical Engineering
Advisors: Robert Warrington, Pavlis Honors College
Sponsor: Pavlis Honors College
Project Overview: The Infant Heart Annunciator is a small, BandAid-shaped device that detects an infant's electrocardiogram, producing a visible flash and audible tone. Often in developing countries, those present at birth do not have the training or equipment needed to determine if an unresponsive infant is alive. Our goal is to eliminate this unnecessary loss of life. Our team is also designing a simple, yet reliable, ventilator that can be stockpiled by hospitals. Typically, hospitals maintain sufficient numbers of ventilators; however, an increase of patients resulting from a pandemic could create a shortage of ventilators. The current high cost of most ICU ventilators prevents hospitals from stockpiling these machines.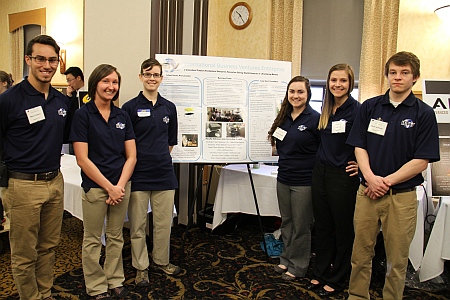 BME Team won Honorable Mention – Compliance Keweenaw: Aspirus Keweenaw Hand-washing Compliance System
Team Members: Anna Waller, Jannah Brandt, Drew Markel, Creighton Bradley, and Rebecca Manshaem, Biomedical Engineering
Advisor: Bruce Lee, Biomedical Engineering
Sponsor: Aspirus Keweenaw
Project Overview: Hand hygiene is of importance to hospitals not only for the safety and health of employees but also to reduce the spread of hospital-acquired infections and protect patients. Aspirus Keweenaw recruited our team to create an automated system to track hand-washing compliance among employees to assist them in their goal of 100 percent compliance. We created a system using a microcontroller and RFID readers to detect when a healthcare worker enters a patient's room and reaches compliance using the sanitizing foam dispenser. This system will be placed near the doorway and communicate with a wristband that identifies the healthcare worker and vibrates as a reminder if compliance is not reached.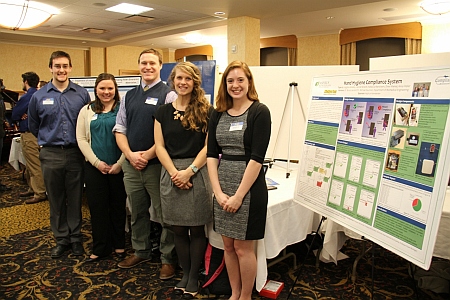 BME Teams were featured in the Michigan Tech news article: Design Expo 2015 Success: Winners, Senior Design and Enterprise Projects