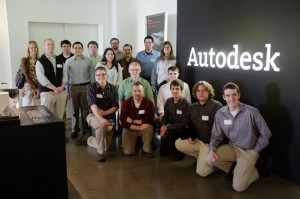 Looking for a life and career changing experience? On December 6th at 5pm, you can interview for the chance to go on the best Spring Break trip of your life. The Silicon Valley Experience 2013 will take 15 lucky students to visit California's technology and innovation hub from March 10 – 15.  To win a spot at the significantly reduced cost of $300, all you have to do is answer one question in 90-seconds: "Why would I like to work and live in Silicon Valley?"
Your answer will be given verbally to the trip coordinators and final trip participants will be selected and notified before the end of the semester. This year, the participants will tour of some of the most innovative companies on the west coast. Last year the group visited Google, Brocade, Cisco, Kyocera, Plug and Play, and other companies.
The Details:
This opportunity is available to current undergraduate and graduate students of all majors at Michigan Tech.
Email Russ Louks, rwlouks@mtu.edu your name, major, and year by 5pm on December 5th to participate. A schedule will be sent out early on December 6th with the time you will be interviewed in the Academic Office Building conference room 101.
Practice your pitch and deliver it to the panel of judges.
If you are selected, you will be expected to:
o   Pay a deposit of  $300 (which includes airfare, transportation around California, and lodging but not food for the trip) prior to leaving for winter break.
o   Work in small groups to review companies we will be attending and present to group before departure to Silicon Valley. (This is to ensure that all trip attendees have an understanding and basic knowledge of the companies we will be visiting).
o   Create a list of thoughtful questions to ask each company in person.
o   Create and bring a resume.
If you have questions about the trip or the interview selection process, please email Russ Louks, rwlouks@mtu.edu or Andre Laplume, aolaplum@mtu.edu.
Read about the 2012 Silicon Valley Experience.