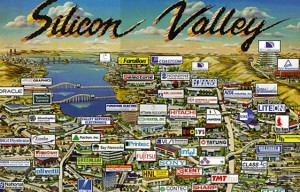 Alternative Spring Break trips are all the rage at Michigan Tech!  These trips enable students an affordable way to get away from Houghton and have some fun over Spring Break.  The School of Business and Economics offers a students the opportunity to tour the high tech companies of California's Silicon Valley.
"Going on the Silicon Valley trip was a great way to spend break because I got to meet a lot of cool and inspirational people, while touring top-notch technology companies," says scientific and technical communications major Armando Flores. The School of Business and Economics organized this trip to give students a backstage pass to tech giants like Google, Autodesk, Cisco and Brocade Communications. The visits came with plentiful opportunities to network, learn about business strategies and explore a whole new world of career options.
Aside from connecting with industry leaders, the students got to experience a culture that differs from what they are accustomed to. "I caught a glimpse of what life is like in California. It really is a melting pot of people, culture and innovation," Flores says.
The trip wasn't strictly business, however. The students also had time for fun, creating memories that will last a lifetime. "The most memorable experiences for me were visiting The Gallery at Autodesk, riding a G-Bike at Google and then visiting the Hacker Dojo," says Flores. "Swimming in the ocean was pretty cool too."
These thrilling experiences may have made returning to classes a challenge, but they also gave Flores something to strive for. "The trip put everything into perspective and motivated me to keep working hard. One way or another, I will go back," he says firmly.
Click here to read the full Tech Today article that describes other Alternative Spring Break opportunities Michigan Tech students engaged in this year.