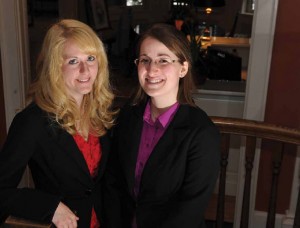 In a time when graduates are struggling to find jobs, two recent School of Business and Economics alumni have secured positions at the world's largest accounting company, Deloitte LLP. Danielle Linna and Theresa Laubrick, who graduated this spring, earned Bachelor of Science degrees in Accounting, double majored in finance, and graduated summa cum laude. While some time off from their impressive academic accomplishments would be expected, instead they studied for the Certified Public Accountant (CPA) exam and started positions with the company in fall 2011.
Danielle Linna: Passion for Accounting
Danielle Linna found her passion for accounting in high school. "I took an accounting class my junior year and fell in love with it. Since then, I've known it's what I want to do with my life."
As a student, Linna was heavily involved in organizations across campus. She furthered her business experience in organizations such as the International Business Ventures enterprise and the accounting club Kappa Sigma Iota, and she also completed the Applied Portfolio Management Program (APMP). As a member of the Delta Zeta sorority, the First Year Experience, and the Michigan Tech Dance Team, Linna rounded out her education and built connections across campus.
Linna believes that her wide range of experience and work with engineers and technology students gave her a competitive advantage over other applicants for her position. "Working with people from different backgrounds allowed me to develop a flexible communication skill set, which will be helpful when dealing with clients."
This fall, Linna started her position as a staff auditor in Deloitte's Accounting and Auditing Group in Milwaukee. With a minor in German and an interest in international
accounting, she hopes to participate in a program at Deloitte that will allow her to work for two years at one of the company's international branches. "I want to make
an impact on national and international accounting standards and financial procedures," she said.
Theresa Laubrick: Hard Work Pays Off
With a double major in accounting and finance and a minor in music and the Enterprise program, Theresa Laubrick shouldered an undergraduate course load that would make a less motivated student collapse. Far from being overwhelmed, she added on as many extracurricular activities as possible. "Students can use the experience they gain from campus involvement and apply it to their futures and careers," she said.
During her years at Michigan Tech, Laubrick was a member of Kappa Sigma Iota, participated in Concordia Student Ministries, and served as the CFO for the Aerospace Enterprise. She also worked as a writing coach and teaching assistant in the Michigan Tech Multiliteracies Center, citing the experience as an important factor in her personal and professional development.
In her position with Deloitte, Laubrick blends her love of working with people and her technical interests. At the company's Detroit branch, she works in the Tax Department's Research and Development Credit Group, where she is responsible for data analysis, write-ups, and generating the tax credit for clients with large R&D
programs, including engineering firms.
In the coming years, Laubrick hopes to shape her career according to words of wisdom from Stephen W. Gilman, the founder of the business honor society Beta Gamma Sigma: "Success is not to be measured by income but by influence, not by power but by personality, not by capital but by character."
Hats off to Danielle and Theresa for passing the CPA in summer and fall of 2011.
This article was originally published in Impact, the Michigan Tech School of Business and Economics magazine, and was written by Erin Kauppila.