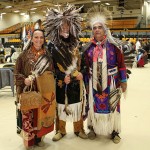 Michigan Tech American Indian Science & Engineering Chapter of the national AISES hosted  the Region V conference on April 12-14th, 2012 on the university campus.
On Friday April 13, Featured Speaker was Dr. Anton Treuer is Professor of Ojibwe at Bemidji State University. He has a B.A. from Princeton University, M.A. and Ph.D. from the University of Minnesota. He is Editor of the Oshkaabewis (pronounced o-shkaah-bay-wis) Native Journal, the only academic journal of the Ojibwe language and author of 9 books: Everything You Wanted to Know About Indians But Were Afraid to Ask, Ojibwe in Minnesota ("Minnesota's Best Read for 2010" by The Center for the Book in the Library of Congress), The Assassination of Hole in the Day, Ezhichigeyang: Ojibwe Word List, Indian Nations of North America, Awesiinyensag: Dibaajimowinan Ji-gikinoo'amaageng ("Minnesota's Best Read for 2011" by The Center for the Book in the Library of Congress), Living Our Language: Ojibwe Tales & Oral Histories, Aaniin Ekidong: Ojibwe Vocabulary Project, and Omaa Akiing. Dr. Treuer has sat on many organizational boards, including the White Earth Land Recovery Project, Sanford/MeritCare Health System, and the Minnesota State Arts Board. Dr. Treuer has received more than 40 prestigious awards and fellowships from many organizations, including the American Philosophical Society, the National Endowment for the Humanities, the National Science Foundation, the MacArthur Foundation, the Bush Foundation, and the John Simon Guggenheim Foundation.
Region V encompasses the states of Iowa, Illinois, Upper Michigan, Minnesota, Nebraska, North Dakota, South Dakota, Wisconsin and the Canadian provinces of Manitoba and Ontario.
The conference theme was "A Traditional Path Into The Future" and is geared towards making native students aware of the benefits of pursuing education in the STEM fields (science, technology, engineering and math), while maintaining their traditional values.
There were presentations and panel discussions including, Beth Earl‐Jones Moody and Bob Jones‐Moody and Dr. Treuer, and Music by Joseph FireCrow.
On Saturday April 14, at the SDC Wood Gym building #24 From Noon to 5:00pm there was a POWWOW. Fry bread/Indian Taco's/Wild Rice soup for sale at the Powwow.
More Details and Pictures of the Regional AISES Conference and Powwow at Michigan Tech