Michigan Tech Engineers Week was celebrated February 16-23. Shown below are a few of the many events and happenings. The week included the 2013 Career Fair with a record turnout of recruiters, all this in a week that included a major blizzard and the university being closed a day and a half.
Winter Baja Competition See the Results, Photos and Videos of the two 90-minute endurance races, as well as a dynamic event. Fifteen universities competing, many with multiple vehicles.
Student Development Center (SDC).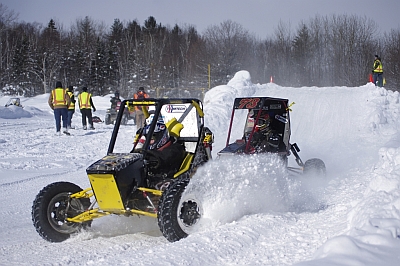 Winter Baja races at the SDC YouTube Video
Railroad Night, hosted by Railroad Engineering and Activities Club (REAC)
with a chance to meet the rail industry alumni and officials.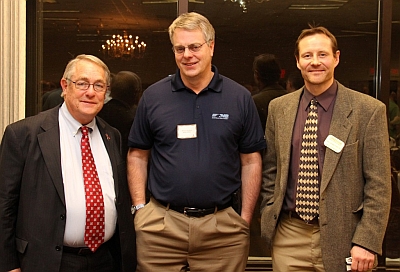 Keynote speaker for Railroad Night 2013 was Robert C. VanderClute (left)
Sr. Vice President Safety and Operations, Association of American Railroads;
2012 Recipient of Railway Age's W. Graham Claytor Jr. Award for
Distinguished Service to Passenger Transportation, shown here with Brian Sykes, Norfolk Southern,
and Dr. Pasi Lautala, Director of the Rail Transportation Program, Michigan Tech
See more photos and information here at RTP Railroad Night 2013 page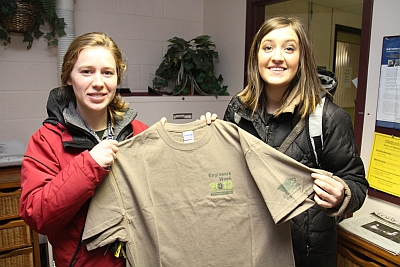 E-Week T-shirts were available!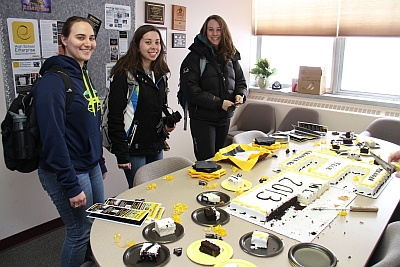 E-Week Cake – hosted by Engineering Fundamentals
Cake to celebrate E-Week was served in Dillman 112 until either the work day or the cake ran out!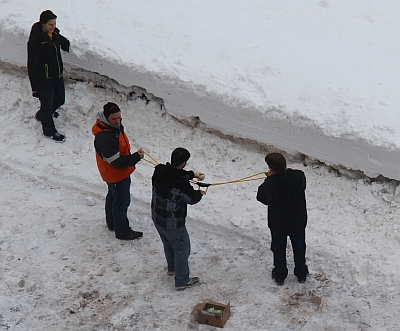 Biodegradeable Water Balloon Slingshot – hosted by Materials United
See how far you can slingshot water balloons! Bring your fun pants!
Faculty Staff Parking Lot behind the M&M Bldg, on Portage Canal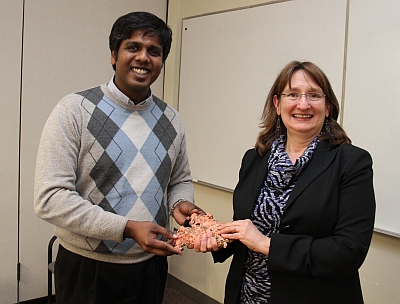 Thomas Oommen Assistant Professor, Geological and Mining Engineering
and Sciences presents a gift of native copper to Patty Bryan.
Patty Bryan, Principal Geologist/Senior Project Manager, URS Corporation – hosted by Association of Environmental and Engineering Geology (AEG) URS Corporation is an engineering, design and construction firm and a US federal government contractor. Patty Bryan, Principal Geologist and Senior Project Manager at the Chicago branch, presented a technical talk on URS projects and described opportunities for engineering geologists at URS.
Parent-Daughter Engineering Exploration Day – hosted by the Center for Science & Environmental Outreach, Department of Engineering Fundamentals, SWE, and Michigan Economic Development Corporation
Girls in grades 7-11 and their parents are invited to give engineering a try with fun activities led by young women engineering students at Michigan Tech! Learn what engineering is and how engineers help make a difference. Find out why engineering is a great career choice, and hear about the many career paths open to engineers at the 201 and 202 Great Lakes Research Center
Upper Michigan Source News Story: What does it take to be an engineer?
Listen to a Copper Country Today Radio Interview from WOLF Radio This interview by Rick Allen (Sunday February 17) was with environmental engineering graduate students, Jen Fuller and Kaye LaFond.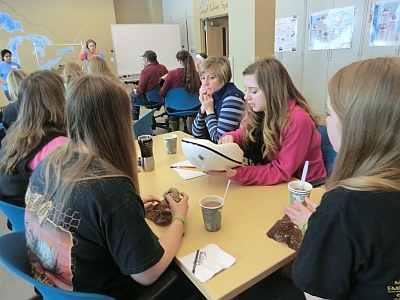 Parent-Daughter Engineering Exploration Day at the Great Lakes Research Center, Michigan Tech
Find out more about Parent-Daughter Engineering Exploration Day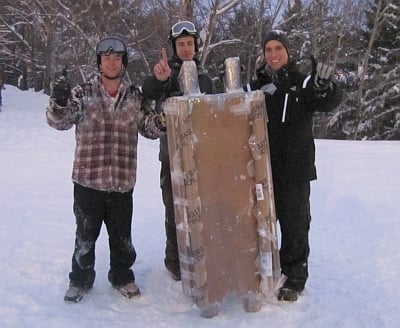 Cardboard Sled Race – hosted by American Society of Mechanical Engineers
A sled race that combines creativity with design for a great experience.
Race was at the Mt. Ripley, Danny Boy Run.