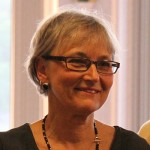 Chris Anderson, special assistant to the president for institutional diversity, has retired after 33 years of service to Michigan Tech, including many years of leadership in STEM education and programs to promote engineering for women and minorities. As several speakers at Chris Anderson's retirement celebration noted, she has influenced thousands of students to pursue degrees and careers in the science, technology, engineering and mathematics fields.
Chris' career at Tech began in 1980 as an instructor in biological sciences. From 1983 to 1989 she served as the director of the Summer Youth Programs; 1990 to 2007 as the executive director of the Educational Opportunity department, which also included the Summer Youth Programs; and from 2007 to today as the special assistant to the president for Institutional Diversity.
She has worked closely with the president, provost, deans, and faculty to ensure that Michigan Tech's campus is welcoming and inclusive. She led such efforts as the creation and implementation of two institution-wide climate surveys (2005 and 2010) and the ongoing campus climate study, as well as establishment of partnerships with secondary schools, corporations, and state and national organizations that strengthen the University's outreach, recruitment, retention and graduation of underrepresented populations.
Chris served as Michigan Tech's representative and active member in such organizations as the State of Michigan King-Chavez-Parks (KCP) Initiative, the Society of Women Engineers (SWE), the Women in Engineering ProActive Network (WEPAN), the National Action Council for Minorities in Engineering (NACME), and the National Consortium for Graduate Degrees for Minorities in Engineering and Science Inc (GEM). In addition, she was a major fundraiser for campus diversity-related initiatives.
Chris is the recipient of the 2011 WEPAN Change Agent award and frequently nominates the University for state and national awards, e.g. the ABET Felbinger Award for Diversity (received in 2011), Insight Into Diversity magazine's Higher Education Excellence in Diversity Award for Michigan Tech (selected 2012-2013), and a pending NSF Presidential Award for Excellence in Science, Engineering and Mathematics Mentoring (PAESMEM). Most recently, Chris received a letter of recognition from Governor Rick Snyder on behalf of her years of service and diversity efforts for the state of Michigan and the University.
The retirement celebration honoring Chris Anderson was on Saturday, August 3, at 5:30 pm at the Magnuson Franklin Square Inn. Presentations and greetings were given by Derhun Sanders, Betty Chavis, Hajj Flemings, Otha Thornton, Bill Polkinghorn, Maries Cleveland, Dr. Howard Adams, Dennis Harbour, Carol Argentati, Wilbel Bewer, Nilufer Onder, Shalini Suryanarayana and a presentation from Governor Rick Snyder, Reprentative Scott Diana and State Senator Tom Casperson. This event is also sponsoring a fundraiser silent auction with proceeds to benefit the Michigan Tech – Betty Chavis Scholarship Fund.
To find out more about giving to the Betty Chavis Scholarship Fund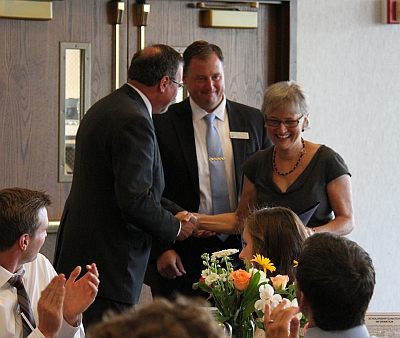 Presentation from Governor Rick Snyder, Reprentative Scott Diana and State Senator Tom Casperson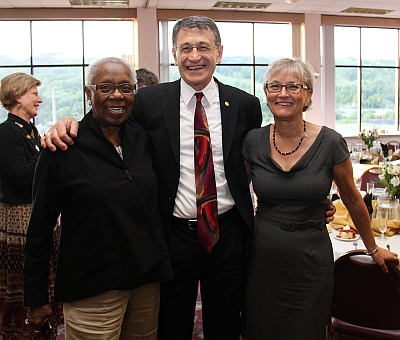 Betty Chavis, Bill Predebpn and Chris Anderson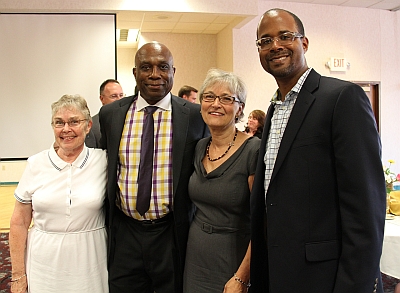 Bev Auel, Rudy Redmond, King-Chavez-Parks (KCP) Initiative, Michigan Department of Labor & Economic Growth, Chris Anderson, and Jason D. Lee, Executive Director, Detroit Area Pre-College Engineering Program (DAPCEP).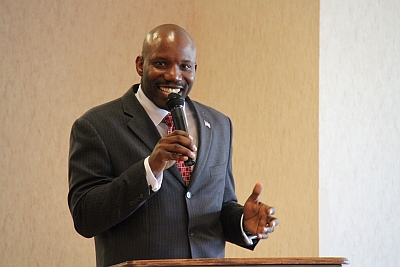 Derhun Sanders was master of ceremonies