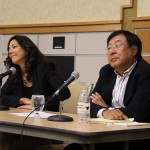 The Women in Computer Science presented a Silicon Valley Careers panel discussion about careers in Silicon Valley on Wednesday, Sept. 18, 2013, at the Memorial Union Ballroom B.
Devyani Kamdar, Executive Director at Palo Alto Institute and Stephen Kahng, Founder and former Chairman and CEO Power Computing Corp., a Michigan Tech '72 Electrical Engineering alumnus speaking at the panel discussion about careers in Silicon Valley sponsored by the Women in Computer Science. Stephen "Steve" Kahng, a computer engineer best known for his design of the Leading Edge Model D, founded the company in November 1993. Most recently, Mr. Kahng has been devoting most of his time to philanthropy and non-profit work. He is currently on the Board of the Hoover Institution at Stanford University and the Committee for Human Rights in North Korea. He is also an active Board member at the Asian Art Museum of San Francisco.
Devyani has an entrepreneurial background in publishing. She has worked in editorial and finance on numerous large-format photography books, including the best-selling Day in the Life series. Three of the books Devyani worked on were New York Times bestsellers: A Day in the Life of America, A Day in the Life of the Soviet Union and Christmas in America.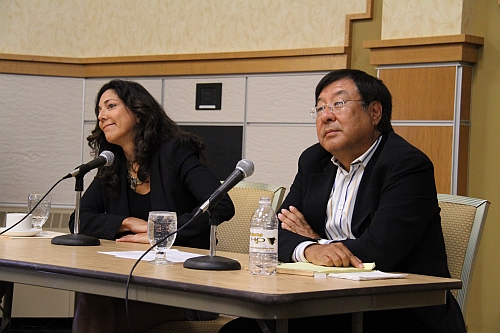 Devyani Kamdar – Executive director of Palo Alto Institute, artist, consultant, and formerly Director of De Vie LLC and CFO of Western Arts Management.
Steve Kahng – Co-founder, president, and CEO of Power Computing Corporation, philanthropist, and human rights advocate. Previously involved in Chips and Technologies Inc. and IBM.
The panel moderator was: Jessica Spaun, Computer Science third year student. The WiCS faculty advisors are: Nilufer Onder, Laura Brown, and Linda Ott. Adam Johnson and Brent Burns from Corporate partnerships are the ones who brought the panelists to campus