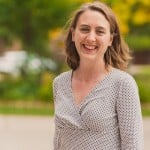 by Mike Meyer, Jackson CTL director
We return to the College of Engineering for this week's Dean's Teaching Showcase nominee. Dean Wayne Pennington has chosen to recognize Caryn Heldt, an Assistant Professor in the Chemical Engineering Department.
Dean Pennington notes that Caryn has consistently received "excellent" ratings for her teaching both from her peers and from students. But her teaching contributions don't stop there; Heldt has a strong record of instructional innovations. Most notably, Caryn developed an online version of a required course which allows students on co-op to "stay on pace" during their time away from campus.
Dean Pennington also asked Tony Rogers, a colleague familiar with Caryn's instructional work in Chemical Engineering, to weigh in. Tony emphasized that Caryn "cares deeply that her students learn and grow." This caring is highlighted, he says, in her success in training and mentoring undergraduate students for research careers within her group. Rogers notes that Caryn's high standards, mentoring abilities, industrial experience, biomanufacturing knowledge, and instructional innovations have benefited all chemical engineering students, but especially seniors in the plant design laboratory.
Caryn will be formally recognized with the 11 other Dean's Teaching Showcase nominees at a luncheon near the end of spring term. Please join Dean Pennnington and the Jackson Center for Teaching and Learning in thanking Caryn for her outstanding contributions to the teaching mission of the College of Engineering.
Caryn Heldt Receives NSF CAREER Award
Caryn Heldt, Assistant Professor of Chemical Engineering, has won a Faculty Early Career Development Award (CAREER) from the National Science Foundation. This prestigious award supports junior faculty who demonstrate the ability to integrate outstanding research with excellent educational programs. Heldt will use the $500,000, five-year award, to further her research on the surface characterization of viruses with a future application to engineer more effective virus removal methods for water purification and biotherapeutic manufacturing. Current virus removal technologies often use expensive filters or harsh chemicals and are selected after a large screening effort. Heldt proposes to start by studying the virus surfaces first and then move on to design better removal technologies. The goal is to remove viruses in a cost effective manner. The research program will be integrated into an outreach program with Wayne County Community College District and MICUP/MI-LSAMP at Michigan Tech to expose community college students to research and alternative career opportunities and increase the transfer of underrepresented students from community colleges to four-year institutions.
Caryn Heldt joined the faculty at Michigan Tech in 2010 after receiving her B.S. in Chemical Engineering and Chemistry in 2001 from Michigan Tech, a Ph.D. from North Carolina State in Chemical Engineering in 2008 and postdoctoral training at Rensselaer Polytechnic Institute.