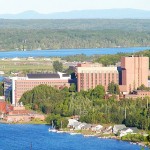 by Mark Wilcox
The FCA Foundation, the philanthropic arm of FCA US LLC has donated $30,000 to create a week-long summer youth program at Michigan Tech, designed to encourage young women to consider careers in automotive engineering.
Jody Hand, a Michigan Tech alumna and FCA interior engineer, was on the Tech campus Wednesday to present a check that will create the FCA Women in Automotive Engineering Summer Youth Program in July of next year.
The new program will focus on increasing the engineering talent pipeline for women in the automotive industry. The FCA Foundation is the sole sponsor of the summer program and FCA will provide female role model speakers aimed at inspiring young women to become engineers.
Stephen Williams[/caption]Stephen L. Williams, head of safety compliance and product analysis for FCA North America said the donation reflects FCA's strong commitment to developing a diverse workforce. He said FCA invests in a wide variety of education and training initiatives to help students — especially women and underrepresented minorities— obtain the technical skills in science, technology, engineering and math (STEM) vital to the future.
"Although women purchase 60 percent of all vehicles and influence nearly 85 percent of all car-buying decisions, enrollment of women in baccalaureate engineering programs remains stubbornly low at around 18 percent," Williams said.
"By Sponsoring the FCA Women in Automotive Engineering Summer Youth Program at Michigan Tech, we hope to encourage promising young women to consider engineering as a field of study and a career in the automotive industry."
Cody Kangas, director of Tech's Center for Pre-College Outreach said the WIAE will introduce talented female high school students, with high academic potential in science and math, to careers in automotive engineering. He said students will be exposed to several pivotal topics that make up the field of automative engineering.
"We are grateful to the FCA Foundation for investing in the future of young women," Kangas said.
"Engineering as a whole is commonly known to be a male-dominated field, thus automotive engineering often becomes overlooked by aspiring young female professionals."
Kangas said the WIAE serves specifically to engage high-achieving young women to experience the automotive engineering field in a hands-on, discovery-based learning environment with their peers.
"Our goal is to encourage them to consider the immense possibilities that make up the automotive industry."
Michigan Tech and FCA have a long partnership dating at least back to the 1970s. FCA Has supported a wide range of activities across campus including scholarships, capital projects, senior design and enterprise programs, student organizations, sponsored research, advisory board membership, recruiting support, youth programs, diversity initiatives and more.