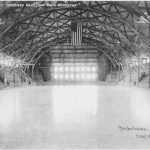 Four Michigan Tech Professors will act as guides during three upcoming guided tours highlighting the history of the Keweenaw.
The tours are sponsored by Houghton's Carnegie Museum, and begin with a wine and cheese social at the museum at 5 p.m. Following the social, participants will board the Red Jacket Trolley Company's bus for a two-hour trip through time.
The first guided tour "Torch Lake Mining Waste," is tomorrow (July 13). Geologists Bill Rose (GMES) and Erika Vye are the guides through a tour along the industrial corridor associated with milling of Quincy and Calumet mines along Torch Lake's western shore. The tour takes a look at areas from Mason to Tamarack City, Hubbell and Lake Linden, viewing mill sites and stampsand areas while discussing the modern implications and environmental mitigation efforts.
Upcoming tours will explore "Trials and Trails of Huron Creek," with Alex Mayer (CEE) and Carol MacLennan (SS), Wednesday Aug. 3 and "Hockey Arenas of the Copper Country," with Bill Sproule (CEE), Thursday Sept. 8.
All tours begin with the social at 5 p.m. with the tours to follow at 5:30 p.m. and are expected to last two hours. The cost is $25 ($20 for museum members). Reservations are recommended and your seat is not guaranteed until payment is made.
Check out the museum's Facebook page.