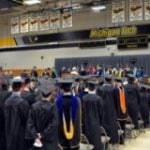 Nearly 350 bachelor's, master's and PhD recipients are expected to take part in Michigan Technological University's Midyear Commencement Saturday. Ceremonies take place at 10:30 a.m. Dec. 17, 2016, in the Wood Gym of the Student Development Complex.
Kristina Rushlau will deliver the student address. A Kalamazoo native, Rushlau graduates with a BS in Environmental Engineering. During her time at Michigan Tech, she participated in Mind Trekkers, the Society of Environmental Engineers and many other activities. She hopes to start her career in environmental engineering preferably in the Detroit Area.
Among the class of 2016 is Ashley VanSumeren from Goodrich, Michigan, who is graduating with a double major in Biomedical Engineering and Exercise Science. VanSumeren says she's been heavily involved in undergraduate research since her sophomore year. Thanks to a scholarship from the Pavlis Honors College and Portage Health Foundation, she was able to conduct her own research project.
I looked at how the muscles of the legs and trunk contribute to seated upper body exercise. —Ashley VanSumeren
VanSumeren presented the results of her research at the Undergraduate Research Expo last march and at the Life Science and Technology Institute Research Forum in October. At the latter, she received the Grand Prize in the undergraduate division.
Michigan Tech is a family affair for VanSumeren whose parents and brother are alumni. She says she initially had "kind of sworn off" Tech because she didn't want to appear to be "copying" her family. A visit during her senior year of high school (while en route to visit her first choice school) changed her mind. She said the opportunities she's had in four years, including working with Olympic athletes for a senior design project, showed her that Tech was indeed the right choice.
The future is a little less clear for VanSumeren, who is planning to pursue a master's degree in kinesiology with an emphasis on biomechanics.
I haven't decided on a school yet, but have applied to schools across the country and in Canada. Following my master's, I hope to get a job in a biomechanics research lab, either for a shoe company or a sport performance company.
She says she hasn't ruled out continuing her education to earn a PhD.
Original story by Mark Wilcox.
Students look to the future after successful tenure at MTU
While earning her degree in Mechanical Engineering. Reagan May found time to be a racecar driver.
Two years ago, I was the Super Late Model Track champion in Plover, Wisconsin, followed up this past season with it in second in points. So, I'm excited to graduate, start my career as an engineer and continue racing throughout the rest of my life. —Reagan May
Ashley VanSumeren didn't have much free time, she was double majoring in Biomedical Engineering and Exercise Science.
I got used to it. I also ended up getting a job on campus doing undergraduate research, so I really learned how to balance between class, work and research. —Ashley VanSumeren
Read more and watch the video at ABC10 News, by Rick Allen.