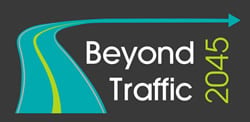 Michigan Tech was selected by the US Department of Transportation as one of the seventeen Beyond Traffic Innovation Centers (BTIC) in the nation.  According to the DOT, "These Centers will be recognized by the DOT as forward-thinking and influential institutions that are capable of driving solutions to the challenges and trends identified in Beyond Traffic 2045, the US DOT's report on current and future issues in transportation. The centers will contribute by "convening decision-makers in their megaregion and coordinating related research, curriculum, outreach, and other activities." The Michigan Tech Center was selected as one of the three universities to serve the rural areas of the United States.
The proposal, led by the Michigan Tech Transportation Institute (MTTI), collaborated with multiple centers and institutes on campus, including: Advanced Power Systems Research Center (APSRC), Center for Technology & Training (CTT), Keweenaw Research Center (KRC), Michigan Tech Research Institute (MTRI), Rail Transportation Program (RTP), Sustainable Futures Institute (SFI) and the Tribal Technical Assistance Program (TTAP).  Additionally, numerous individual campus researchers provided information for the submission.
MTTI Director Pasi Lautala (CEE) will serve as the Beyond Traffic Coordinator, participating in future events related to regional development with the USDOT. MTTI is also planning to use the Center as encouragement for faculty, staff and students interested in transportation issues to get involved in working toward solving our nation's transportation issues.
Further information on Beyond Traffic, including a map of the selected centers, is located here.  https://www.transportation.gov/beyondtraffic. For faculty, staff and students interested in getting involved with the center, please contact Pam Hannon (prhannon@mtu.edu), or 906-487-3065.  For more information on MTTI, please visit our website.
By MTTI.