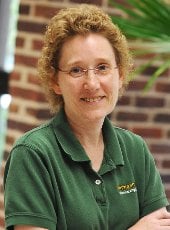 In week nine, the new Deans' Teaching Showcase member is from the College of Engineering. Dean Wayne Pennington has selected Julie King, professor of chemical engineering based on recommendations from co-workers, students and her chair.
Adrienne Minerick (ChE), associate dean for research and innovation, who was Julie's student as part of her bachelor's degree and is now a colleague, calls King a "highly influential role model for me" as well as for many other students.
More specifically, Minerick says "Julie consistently is recognized by her students for her personal interest, advice and interactions. She stays invested in student success after they leave her classes, approaching those teaching subsequent classes with insights and advocacy strategies. I've never met a stronger advocate for students."
S. Komar Kawatra, chemical engineering chair, praises King for her dedication, especially in the demanding Unit Operations Laboratory, saying "She spends a great deal of time with students, and always takes on additional teaching duties at the time of need."
Kawatra calls King a "model professor," and indicates that she has received similar praise from the Mack family as the Lorna and James Mack Chair Professor in Continuous Processing.
King's current students confirm her great mentoring, but also appreciate her passion for excellent teaching and continuous improvement. One student comment read "She continuously asks students what she can do to improve their hands-on learning experiences or what areas she can provide more practical examples of chemical engineering applications to prepare them for full-time positions. She actively listens to her students and genuinely considers their feedback for future lessons or experiments."
This same student believes that King is "part of the reason why chemical engineers from Michigan Tech are some of the best in the world."
King will be recognized at an end-of-term luncheon with 11 other showcase members, and is now eligible for one of three new teaching awards to be given by the William G. Jackson Center for Teaching and Learning this summer recognizing introductory or large-class teaching, innovative or outside-the-classroom teaching methods, or work in curriculum and assessment.
By Michael Meyer, Director, William G. Jackson Center for Teaching and Learning.