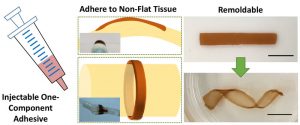 "A Moldable Nanocomposite Hydrogel Composed of a Mussel-Inspired Polymer and a Nanosilicate as a Fit-to-Shape Tissue Sealant" was published in Angewandte Chemie International Edition by Yuan Liu, Hao Meng, Zichen Qian, Ni Fan, Wonyoung Choi, Feng Zhao, and Bruce P. Lee.
DOI: 10.1002/anie.201700628
The paper concerns existing injectable sealants and tissues adhesives, which have difficulty adhering to surfaces with a complex and non-flat geometry (i.e., sealing the convex contour of a sutured anastomosis). They require a mixing tip for mixing liquid precursor solutions, and may use cytotoxic chemical activators to initiate the solidification of the adhesive.
The research team is designing a moldable hydrogel that can function as a fit-to-shape tissue sealant employing adhesive chemistry utilized by marine mussels. Initially, the adhesive is injectable as a gel, able to be remolded to different shapes. It can be applied around the contour of a tissue surface. Over time, the adhesive solidifies and adapts to the new shape, sealing defects on the tissue.
The exhibited burst pressure is suitable for sealing sutured intestinal anastomosis, renal vein, and other applications.