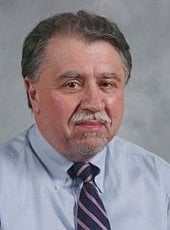 Upon the recommendation of Civil and Environmental Engineering Chair David Hand, College of Engineering Dean Wayne Pennington has chosen Martin Auer (CEE) as his final spring 2017 Deans' Teaching Showcase member.
Pennington selected Auer for his ability to influence the career trajectory of both graduate and undergraduate students, as well as his extensive commitment to K-12 outreach programs. Pennington credits Auer's teaching for "transforming the lives of graduate and undergraduate students and influencing them to pursue careers in environmental engineering related to surface water quality."
Michael Erickson, an alumnus and now the senior vice president for ARACADIS confirms this, saying "Sometimes you can look back to when someone lifted us to view a horizon we could not see. Dr. Auer did that after singling me out for a high score on a tough modeling exam. His words realized my potential to excel. That triggered a shift in my thinking, gave confidence to shoot higher and opened a graduate school opportunity."
Another alumnus, Steven Tomaszewski, who is now the director of global facilities at GM and a member of Michigan Tech's Board of Trustees, credits Auer's teaching for much of his work worldwide. "My technical base is highly influenced by his teachings. I often leveraged Dr. Auer's technical and ethical standards while negotiating permits to construct new assembly plants in Russia, India, Mexico, Brazil and Korea. From a small classrom in Houghton, Michigan, his influence has had global ramifications on these billion dollar investments. I suspect that he doesn't realize the reach of this teachings, but it is far greater than he would have ever expected, and one that I'm proud to be part of."
Auer has gone above and beyond his graduate and undergraduate teaching responsibilities by spearheading the outreach component of the Great Lakes Research Laboratories. According to Hand, this program "brings in thousands of K-12 students from the local area and under-represented urban areas to learn about the importance of environmental stewardship and lake ecosystems."
Auer's leadership includes research trips to Isle Royale with Native American students and seminars for teachers from Flint to learn about water quality and how to educate their students. But perhaps the most influential outreach experience is Auer's leadership in the GM sponsored "Ride the Waves" program.
In describing Auer's role, Tomaszewski says "Utilizing a research vessel (the Agassiz) as the platform, Dr. Auer choreographed a program offering students from low-income areas a world class STEM experience. Students and educational institutions that would never have the means to touch the water are now performing experiments with some of the best scientists in the Great Lakes region. In the last four years, this passion for water quality research has brought more than 3,000 students to Michigan Tech. A researcher with marketing skills is a rare combination and one that is sought by many universities. Michigan Tech and General Motors are proud to have his leadership driving this initiative."
Hand wraps up his recommendation by saying, "Martin Auer is truly deserving of being recognized for his commitment to teaching on a grand scale."
Auer will be recognized at an end-of-term luncheon with 11 other showcase members, and is now eligible for one of three new teaching awards to be given by the William G. Jackson Center for Teaching and Learning this summer recognizing introductory or large-class teaching, innovative or outside-the-classroom teaching methods, or work in curriculum and assessment.
By Michael R. Meyer, Director, William G. Jackson Center for Teaching and Learning.