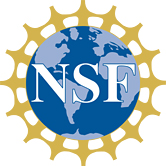 Three students from Michigan Tech have received fellowships from the National Science Foundation's Graduate Research Fellowship Program (NSF-GRFP), one of the oldest and most competitive programs in the nation. In addition, three students received Honorable Mention, in the prestigious program.
Rebekka Guyon, Mary Kate Mitchell and Roger Guillory II were named GRFP Fellows. Violet Thole, materials research, Kelci Mohrman, physics, and Breeanne Spalding, biomedical engineering, received honorable mention.
Mitchell is an undergraduate chemical engineering major from Plymouth, Michigan who will graduate this spring. Her research focuses on the water-energy nexus, specifically developing more energy efficient methods to remove boron during seawater desalination.
"Current reverse osmosis methods are energy intensive so it is valuable to explore alternative options," says Mitchell who is appreciative of the prestigious distinction. "I am very grateful to receive this fellowship and want to thank my many mentors I've had, throughout my career in industry as well as Michigan Tech." She says the GRFP will be an invaluable asset to her graduate school career.
Guillory is a biomedical engineering major from Houston, Texas, whose research focuses on evaluating degradable metals (zinc based) for cardiovascular-stent applications. He says the GRFP award is a validation of sorts for the research conducted at Michigan Tech.
"This fellowship proves to me that the work we do here in our labs, and at Michigan Tech have a considerable impact outside of our University and respective disciplines."
Guyon is a geological engineering major from Detroit. Her research is focused on reducing dust emissions from mine tailings by utilizing bacteria already present within the tailings. Dust emissions impact human health, especially among the Native population where research indicates these dustings have doubled the risk of lung cancer and cause higher incidences of respiratory disease.
"I feel fortunate to receive this prestigious honor," Guyon says. "Additionally, this is a significant recognition of the mentors, faculty and students that I have worked with over the past few years. Michigan Tech has a very strong intellectual community, so I'm fortunate to conduct my research here."
Pushpalatha Murthy, dean of Michigan Tech's Graduate School says, "Being a recipient of the Graduate Research Fellowship or Honorable Mention status in this very prestigious competition speaks to the high caliber of our students and the dedication they have for both intellectual pursuits and serving society. The NSF-GRFP is unique in that it emphasizes commitment to both intellectual inquiry and service to society and are looking to support individuals who have the potential to be high achieving scientists and engineers as well as have a broader impact on society. These awards are a well-deserved recognition of the superior accomplishments of our students and the quality and dedication of Michigan Tech faculty, staff and programs. Crafting a winning proposal is a lot of effort and I want to congratulate the students for their accomplishments and thank the dedication and passion of the faculty and staff who helped them. I look forward to great contributions for our students."
THE NSF Graduate Research Fellowship Program recognizes and supports outstanding graduate students in NSF-supported science, technology, engineering and mathematics disciplines who are pursing research-based master's and doctoral degrees at accredited US institutions.
By Mark Wilcox.