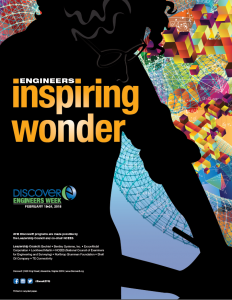 Please join us in celebrating National Engineers Week at Michigan Tech. All are welcome!
National Engineers Week is celebrated at Michigan Tech this week with a variety of events on campus. It began yesterday and runs through Saturday (Feb. 24).
Events at Michigan Tech during Engineers Week, also known as Eweek, are sponsored by Tau Beta Pi, the local chapter of the Engineering Honor Society, and the College of Engineering. .
Founded by the National Society of Professional Engineers in 1951, EWeek is dedicated to ensuring a diverse and well-educated future engineering workforce by increasing understanding of and interest in engineering and technology careers.
The week's first event will be held this afternoon. How to Make a DIY Composter will be held from 3 to 4 p.m. today (Feb. 19) at Dillman 320. The Green Campus Enterprise will help you learn about composting and show you how you can start doing it yourself.
Additional Eweek events at Tech include:
Engineers Week Cake: Enjoy a free piece of cake with the Department of Engineering Fundamentals. Cake will be served from 11 a.m. to 3 p.m. tomorrow (Feb. 20), at Dillman 112.
Engineering Though the Ages Presentation. Learn about the marvels of the past with Chelsey Rock. 6:30 – 7:30 p.m. Thursday (Feb. 22) in Fisher 138.
Build a Heart Rate Circuit Board. Build your own circuit board with Blue Marble Security Enterprise. 4 – 6 p.m. Friday (Feb. 23) in EERC 622.
Free showing of "The Martian." Enjoy a free showing of "The Martian" on behalf of the College of Engineering and Film Board. The film will be shown at noon Saturday (Feb. 24) in Fisher 135.
National Engineers Week celebrates the positive contributions engineers make to society and is a catalyst for outreach across the country to kids and adults alike. For the past 60 years, National Engineers Week has been celebrated each February around the time of George Washington's birthday, February 22, because Washington is considered by many to be the first US engineer.