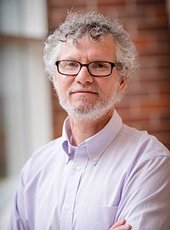 Last September, University President Glenn Mroz and Jackie Huntoon, provost and vice president for academic affairs, announced the establishment of two new titles created to recognize outstanding faculty: Distinguished Professor and University Professor.
The University Professor title recognizes faculty members who have made outstanding scholarly contributions to the University and their discipline over a substantial period of time.
Alex Mayer was selected as the first University Professor.
Mayer is the Charles and Patricia Nelson Presidential Professor in the Department of Civil and Environmental Engineering. He has been at Michigan Tech since 1991 with a joint appointment in the Department of Geological Engineering and Sciences. Mayer was the co-founder and first director of the Michigan Tech Center for Water and Society. He teaches about environmental resources engineering and management. Recent research activity on collaborative solutions to water scarcity in semi-arid environments, hydro-economic modeling for watershed management, sea level rise impacts on island nations has been funded by the National Science Foundation and the US Department of Agriculture.
Mayer is frequently recognized for his outstanding efforts to bring water-related research, education and outreach to the forefront at Michigan Tech. For his dedication to studying water quality and scarcity—and his unique approach to these complex problems—Mayer won Michigan Tech's 2015 Research Award. In 2009, Mayer was recognized with the Rudolf Hering Medal from the American Society of Civil Engineers. In the same year, he also received Michigan Tech's Distinguished Faculty Service Award. Collaboration is a hallmark of Mayer's research methods. He works across disciplines with academics, government, non-governmental organizations, and community stakeholders.
The confidential process for selecting recipients spans the academic year and recipients for each award were notified in May. A University Professor is recognized for their exemplary research, major invited lectures, prestigious awards, significant contributions to the advancement of their field, and other criteria. They are nominated by faculty members, departments, programs, or schools. University Professors will not exceed two percent of the total number of tenured and tenure-track faculty at Michigan Tech at any time.