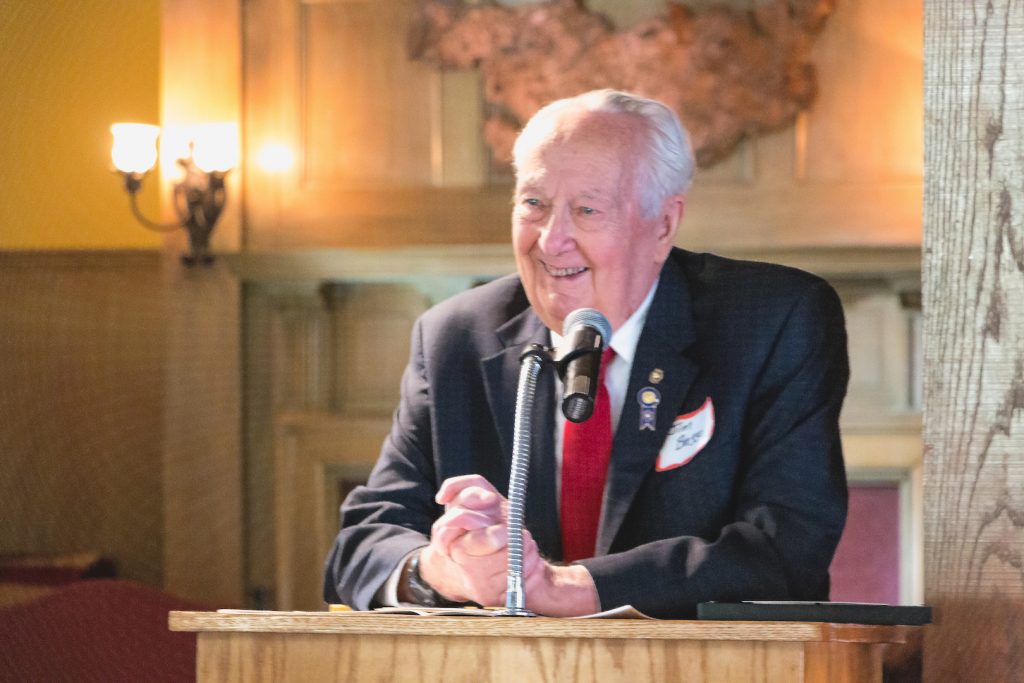 Michigan Tech's Department of Chemical Engineering held its 2019 ChE Academy induction ceremony May 14 Miscowaubik Club in Calumet, Michigan. Three ChE alumni were welcomed into the Academy by Pradeep Agrawal, Professor and Chair of the Department of Chemical Engineering. James Brozzo '53, was the Master of Ceremonies
—it was also his 88th birthday. All in attendance helped Mr. Brozzo celebrate his birthday at the event.
Members of the Distinguished Academy are those whose careers have been marked by extraordinary accomplishments or exemplary service to the profession. Inductees are nominated by department faculty. Academy members are role models of accomplishment for our undergraduate and graduate students.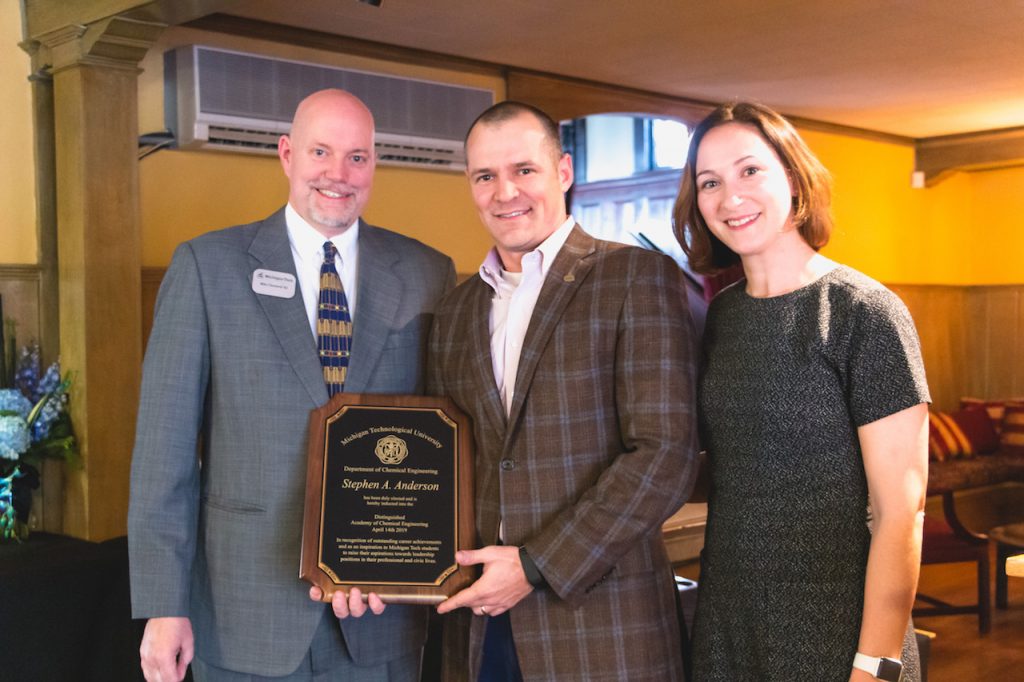 Stephen Anderson—Class of '98
Steve Anderson is Senior Vice President and General Manager for the Light Industries North America business segment within Nalco Water, an Ecolab Company. Ecolab is the global leader in water, hygiene and energy technologies and services that provide and protect clean water, safe food, abundant energy and healthy environments. With 2017 sales of $13.8 billion and 48,000 associates, Ecolab delivers comprehensive programs and on-site services to promote safe food, maintain clean environments, optimize water and energy use and improve operational efficiencies for customers in the food, healthcare, energy, hospitality and industrial markets in more than 170 countries around the world.
Throughout his 19 years with Ecolab, Steve has held various roles in the areas of sales, sales management, business strategy and general management. He started his career in the field as a territory manager following his graduation from Michigan Tech. During this time in the field and throughout his career, he has supported customers in the Institutional, Food & Beverage, Manufacturing, Power and Chemical industries.
With the ever-growing need for water use reduction and water safety programs throughout North America and around the world, Steve is responsible for continuing to build upon the programs most needed by Ecolab's Light customers to minimize water, maximize the life of customer assets, protect their brand and their people, all at an optimized cost.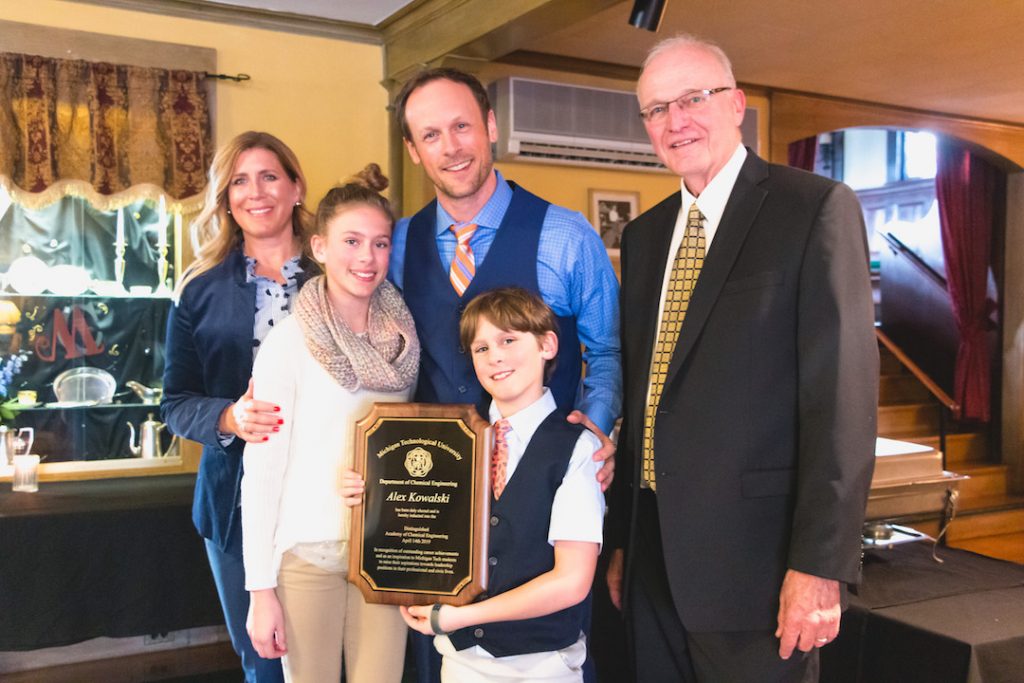 Alex Kowalski—Class of '01
Alex Kowalski is CEO and owner of Performance Welding. Performance is an OEM contract manufacturer of metal assemblies based in Little Chute, Wisconsin. He acquired the distressed company in September of 2012 and brought in professional management for the turnaround. After he acquired Performance Welding, the company was profitable the very first year. Since then Alex has grown its revenue organically by 341 percent.
Prior to purchasing Performance, Alex was the President of INFO-PRO Mortgage Services, a privately held mortgage servicing company based in Fond du Lac, Wisconsin. Alex also spent time as the Director of Sales for a privately held real estate investment firm.
Alex, along with his wife Holly, own Kay James Design. Kay James is a graphic design business specializing in surface graphics, packaging design, and product aesthetics for consumer brands. Alex and Holly also own a commercial real estate portfolio that totals 250,000 square feet. The properties are located primarily in Wisconsin.
Alex has a BS in Chemical Engineering and a BS in Business Administration, both from Michigan Tech. Alex and Holly have two children, Annika and Isaac, and reside in Sherwood, Wisconsin.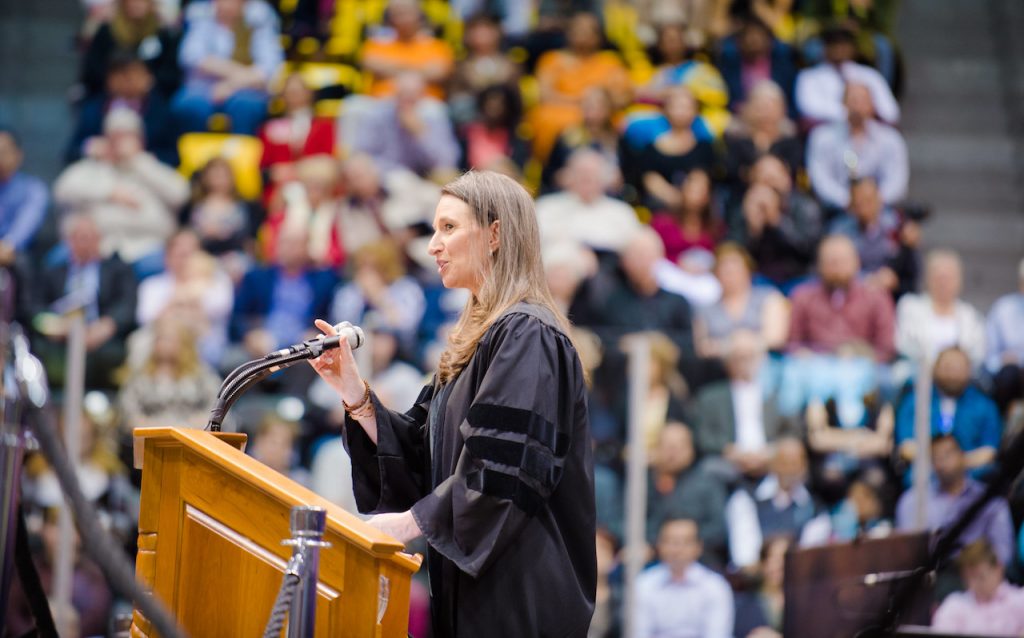 Paula Wittbrodt— Class of '93
Paula Wittbrodt is currently the vice president of international business development and chief of staff to the group president international at Estée Lauder in New York City, and served as keynote speaker and recipient of an honorary PhD at 2017 Tech's Spring Commencement.
Paula started her career working for Amway Corporation in Ada, Michigan as a process development engineer. She went on to earn an MBA from Columbia Business School in New York with a focus on Strategic Management. In 2005 Paula joined consulting firm A.T. Kearney, supporting Fortune 500 Clients with strategic initiatives in product development and innovation, marketing and strategic planning, organization redesigns, and other operational improvements. Next she joined Avon Products, Inc., initially with the company's global business transformation team, next as global director, skin care new product engineering and development, and then spent two years in Shanghai, China as executive director of Avon's new product engineering and development for Asia Pacific. Once back in New York with Avon, she led a global indirect sourcing transformation, building the infrastructure and capabilities to maximize value from the company's investment, and finally took a role as global lead for sales and operations planning before joining Estée Lauder in 2012.
Over the years Paula has been involved many charitable activities supporting women in business, Junior Achievement, disaster relief activities, breast cancer research, and domestic violence. She is a member of the Michigan Tech Presidential Council of Alumnae.