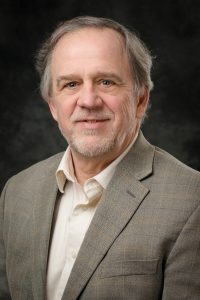 ASTM International's committee on concrete and concrete aggregates (C09) has presented its top annual award – the Award of Merit – to Lawrence L. Sutter P.E., assistant dean of research and external relations in the College of Engineering at Michigan Tech. The prestigious award, which includes the accompanying title of fellow, is ASTM's highest recognition for individual contributions to developing standards.
The committee honored Sutter's meritorious service and respected technical expertise, outstanding leadership and exemplary professionalism, and strong commitment to the pursuit of standards development in the areas of research, petrography, and supplementary cementitious materials. The committee recognized him as being a valuable resource and advocate for the responsible use of sustainable materials in concrete mixtures and as a forward-thinking leader in integrating new and developing technologies into new and existing standards.
An ASTM International member since 2002, Sutter is also a member of the committees on cement (C01), manufactured masonry units (C15), and road and paving materials (D04). He has previously been honored with four Awards of Appreciation from the committee on concrete and concrete aggregates, as well as one from the committee on cement (C01).
In addition to ASTM International, Sutter is a fellow of the American Concrete Institute, and a member of the Transportation Research Board and the National Concrete Consortium. Read the full story here.