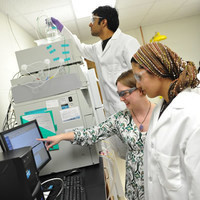 The Health Research Institute hosted its first Research Slam Student forum Nov. 8, 2019. The event was divided into three categories: Two-Minute Introduction, Three-Minute Thesis, and Eight-Minute Talks.
Presenters from the Three-Minute Thesis and Eight-Minute Talk categories were judged on comprehension, content, audience engagement and ability to communicate their work and findings clearly.
The winners are:
Three Minute Thesis
Eight Minute Talk
1st – Ariana Tyo, Biomedical Engineering
2nd – Dhavan Sharma, Biomedical Engineering
3rd – Wenkai Jia, Biomedical Engineering
Congratulations to the winners and thank you to all of the presenters for sharing your research with the HRI community. We would also like to give special thanks to our faculty judges: Tatyana Karabencheva-Christova (Chem), Sangyoon Han (BioMed), Samantha Smith (CLS), Jingfeng Jiang (BioMed), Marina Tanasova (Chem), Rupak Rajachar (BioMed), Traci Yu (BioSci), and Shiyue Fang (Chem).