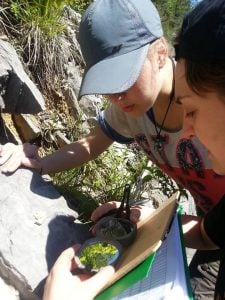 John Gierke, GMES professor and department chair,  is a co-director of Michigan Tech's partnership with five universities on a three-year NATO Science for Peace and Security Programme. This international, multi-institutional project is co-directed by Professor Alessandro Tibaldi of the Department of Environment and Territory and Earth Sciences at the University of Milan-Bicocca and Dr. Nino Tsereteli of the M. Nodia Institute of Geophysics of Tbilisi State University.
The project focus is the study of natural hazards that could undermine social and geopolitical stability of a delicate Transcaucasian region located between Georgia and the breakaway region of Abkhazia, near the Enguri dam, the second highest arch dam of the world, which provides approximately half of the electrical energy for Georgia.
The US project team consists of Gierke and Michigan Tech GMES associate professor Thomas Oommen. They are advising Master's student Maria Diletta Acciaro, who is pursuing a joint MS in Geology with Michigan Tech and her home institution, the University of Milan-Bicocca.
Their first project mission was in early November 2015 in Tbilisi with a kickoff meeting between the project scientists. The second mission, which took place last May 11-25, 2016, was focused on mapping and characterizing landslides and hillslopes surrounding the reservoir and that pose potential hazards to the safety the Enguri dam. "Landslides and rock falls are common on the steep slopes of these highly-weathered mountainous areas. Larger events could be triggered by heavy rains and seismicity," says Gierke. He and Acciaro worked with their Georgian counterparts to measure rock and soil strength for the different surficial formations in the reservoir area.
The team is estimating the relative risk of different slopes surrounding the Enguri Dam using computer models that forecast landslide susceptibility. Their estimates are based on the topography (slope), geology, and strength properties of the soils and rocks. "One of the codes allow us to include seismicity in the forecasting and the other will let us explore rainfall intensity," adds Gierke.
Read more about the project online. See photos from the May 2016 trip here.