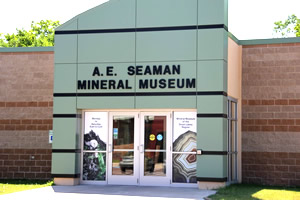 A. E. Seaman Mineral Museum welcomes students, faculty and staff to visit and see why the museum is the No. one local destination on TripAdvisor. Admission is waived so you can visit on your lunch hour or any convenient time. Professional visitors accompanied by faculty or staff are also welcome.
The museum showcases the beauty and splendor of nature's masterpieces, minerals. The museum exhibits the best mineral collection from the Great Lakes region as well as minerals from around the world. Enjoy fluorescent minerals in one of the best exhibits in the U.S. Visit the 17-ton native copper slab housed in the copper pavilion that holds the Guinness world record. Come visit before the pavillion closes in November for the winter.
The museum welcomes students and employees to visit the "gem" of Michigan Tech. Fall hours are 9 a.m. to 5 p.m. Monday through Saturday.