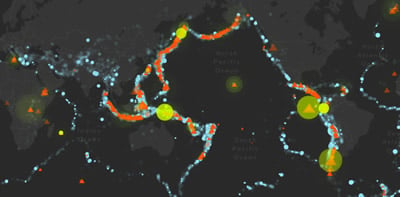 The Smithsonian Magazine referenced Simon Carn's (GMES) volcanology research, which seeks to incorporate emissions data into the Smithsonian database, in a feature story along with an interactive map.
How Earthquakes and Volcanoes Reveal the Beating Heart of the Planet
Earthquakes and volcanoes can conjure up images of widespread destruction. But for those who study Earth's deepest reaches, like Elizabeth Cottrell, a research geologist at the Smithsonian's National Museum of Natural History and director of the Global Volcanism Program, volcanoes are also "windows to the interior."
"Global satellite monitoring of volcanoes will transform our understanding of gas fluxes from Earth's interior to exterior in the coming decade," says Cottrell, who has been working along with Michigan Tech researcher Simon Carn and data manager Ed Venzke to incorporate volcanic emissions into the Smithsonian database since 2012.