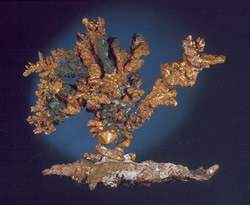 The A. E. Seaman Mineral Museum exhibited at the 72nd annual Greater Detroit Gem, Mineral and Fossil Show held Oct. 14-16 at the Expo Center of Macomb Community College hosted by the Michigan Mineralogical Society. The show consisted of 56 exhibits, 40 mineral dealers selling to the attending public and presentations.
Ted Bornhorst, executive director of the museum, presented "Nature's Mineral Masterpieces from the Keweenaw Peninsula" on Sunday afternoon to an audience of about 50 people. The museum held a silent auction as a featured Sunday event.
The museum maintains satellite exhibits at several locations around the state. The satellite exhibit in the St. Ignace Welcome Center was updated by Bornhorst en route to the mineral show. In addition, the museum's satellite exhibit at Michigan Tech Research Institute in Ann Arbor was exchanged for a display of Variscite Nodules from Clay Canyon, Utah. The nodules were donated by George B. Robbe (1884-1963), a Michigan Tech alumnus from 1913 who pioneered in chemical extraction techniques for copper ore beneficiation while he was working for the Utah Copper Company at Bingham Canyon in the 1920s.