Simon Carn (GMES) discusses sulfur dioxide emissions in an article accompanying a NASA Image of the Day showing the extent of the fires in Mosul, Iraq.
Sulfur Dioxide Spreads Over Iraq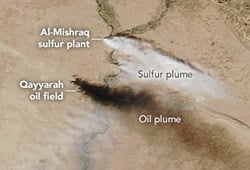 In June 2003, atmospheric scientists at NASA's Goddard Space Flight Center and the University of Maryland, Baltimore County, used satellites to track how much sulfur dioxide streamed into the atmosphere from a fire at a sulfur mine and processing facility near Mosul, Iraq. They calculated that the fire at Al-Mishraq, which burned for nearly a month, released 21 kilotons of toxic sulfur dioxide per day. That is roughly four times as much as is emitted each day by the world's largest single-source emitter of sulfur dioxide, a smelter in Noril'sk, Russia.
More recently, sulfur dioxide has been lofted to higher altitudes where it may undergo long-range transport. —Simon Carn
Read more at NASA Earth Observatory, by Joshua Stevens and Adam Voiland.
In the News
News outlets around the world covering the Mosul, Iraq fires quoted Simon Carn (GMES) for his work in sulfur dioxide emissions. The original story was posted by NASA's Earth Observatory along with satellite images; news outlets include ABC News, Nature World News, Yahoo News and a number of science blogs.
By Allison Mills.