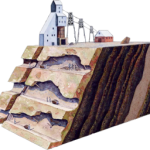 Michigan Tech alumnus Jeff Nuttall ('68) and his wife Louise have donated an outstanding copper crystal to the A. E. Seaman Mineral Museum.
The crystal of copper, from the Quincy Mine in Hancock, has near-perfect form. The museum has the finest cumulative collection in the world of crystallized copper specimens. The Nuttalls' donation is more than twice the size of the next-best crystal of the same form in the museum's collection. Among the thousands of copper crystals from the Copper Country in other museum and private collections, very few show such perfect form.
Associate Curator Chris Stefano notes that "Despite its small size, this specimen is among the finest copper crystals in the museum's extensive holdings."
Nuttall is a semi-retired geologist running Vicksburg Petroleum out of Houston, Texas and has an extensive collection of minerals from the local region. He has a great love for the Copper Country and has collected minerals since his time at Michigan Tech.
By A. E. Seaman Mineral Museum.