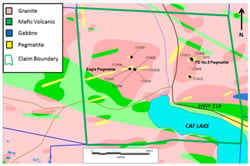 Michigan Tech Alumnus Michael Neumann, a director with New Age Metals, was featured in the article "New Age Metals—Developing PGM and Lithium Properties in Canada," in Investing News Network.
Neumann graduated in 1981 with a Mining Engineering degree from Michigan Tech. He has been Proprietor of Neumann Engineering and Mining Services, Inc. since 1993.
New Age Metals Inc. is a green metals exploration company currently developing its flagship River Valley platinum group metals property in Sudbury, Ontario, Canada.